Christmas promotion on Promobot V.4
Say the promo code
TikTok
and get a discount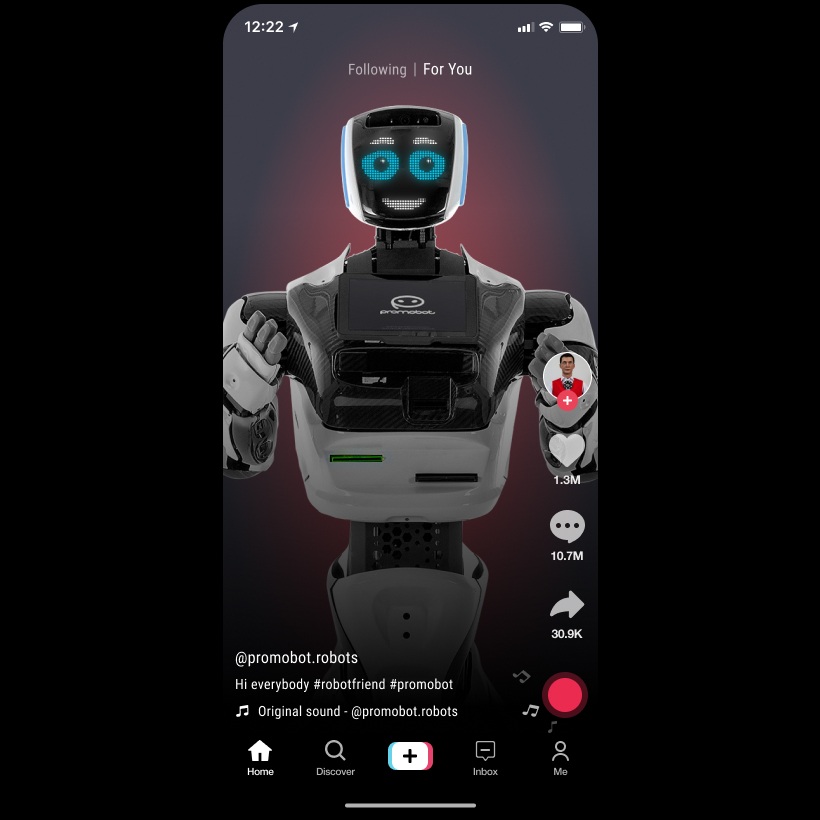 Promobot V.4
Service robot for business
Promobot robot communicates with people, answers questions, and helps with services, functioning as a Promoter. It creates an image of a high-tech company. Promobot distinguishes you from competitors, attracts customers, and improves brand loyalty. The robot is autonomous and doesn't require people to control its work
Promobot V.4 is great at attracting attention. Both adults and kids like interacting with it: they use it to obtain services, get special offers, and participate in games
Promobot V.4
Service robot for business
Promobot robot communicates with people, answers questions, and helps with services, functioning as a Promoter. It creates an image of a high-tech company. Promobot distinguishes you from competitors, attracts customers, and improves brand loyalty. The robot is autonomous and doesn't require people to control its work
Promobot V.4 is great at attracting attention. Both adults and kids like interacting with it: they use it to obtain services, get special offers, and participate in games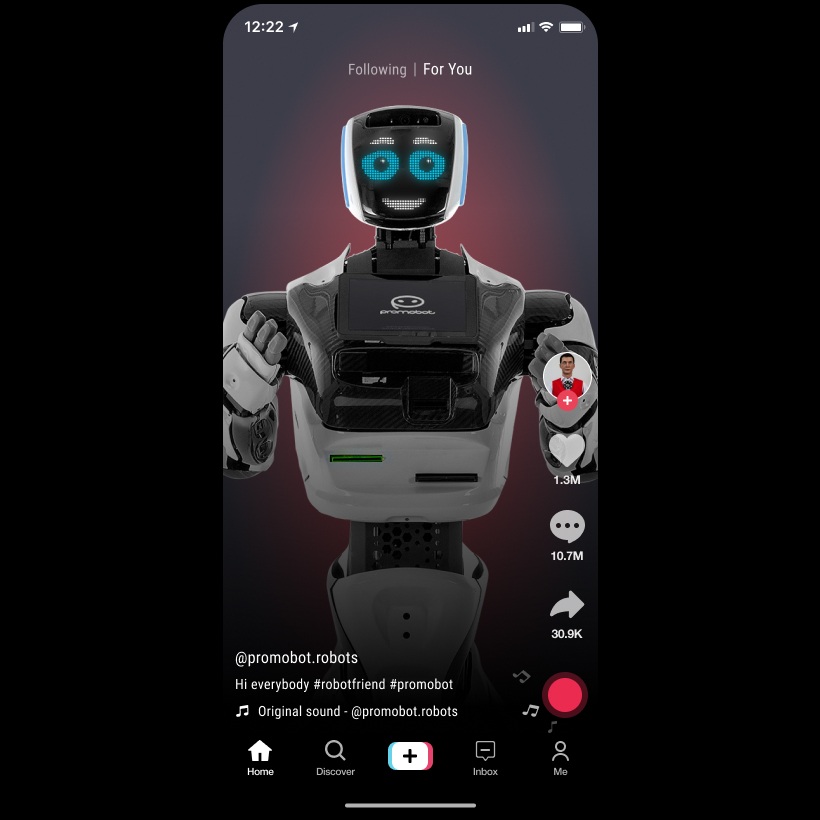 Motion Studio Service is a web service where new moves, dances and other movement scenarios can be created for robots.

This helps to adapt the robot to the audience, increasing customer loyalty and sentiment. People are pleased if the robot knows your company's special greeting or your national dance.
In one hour, the complex produces:
The promotion is valid for the purchase of one Promobot V.4 robot or more. It can be a tour guide, promoter, educational platform or other case. Besides, you can choose any color and any equipment – we give gifts for everything;
The promotion is valid with the promo code «TikTok»;
Promotional period: December 1-31, 2022.

Presents the company and its services

Recognizes and remembers faces

Chats on random topics and answers questions

Can be integrated with a third-party software

Scans and auto-completes documents

Works with an e-queue system

Talks with people using a targeted script

Shows promotional materials on its screenc

Issues keycards

Accepts payment

Prints photos, guest passes, and receipts

Travels and automatically avoids obstacles

Presents the company and its services

Recognizes and remembers faces

Chats on random topics and answers questions

Can be integrated with a third-party software

Scans and auto-completes documents

Works with an e-queue system

Talks with people using a targeted script

Shows promotional materials on its screenc

Issues keycards

Accepts payment

Prints photos, guest passes, and receipts

Travels and automatically avoids obstacles
We will develop Promobot specifically for you
Leave an inquiry to contact our specialists on purchasing and additional questions
Remember to enter the promo code
TikTok
in the Message field
By submitting an application, you agree to the processing of personal data according to the
privacy policy
A robot performs every task of a human employee

Business

Shopping center
HoReCa

Public services
Airport
Museum
A robot performs every task of a human employee

Expo

Medicine

Education

Business

Shopping center
HoReCa

Public services
Airport
Museum
Make Promobot your business
Fill out the form below. Our specialists will contact you shortly to inform on terms of purchase and delivery time for your Promobot. Remember to enter the promo code
TikTok
in the Message field. The discount is negotiated individually
By submitting an application, you agree to the processing of personal data according to the
privacy policy