Promobot has more than 30 partners in Russia and more than 50 partners in other countries. Partners rent robots for forums, exhibitions, expos and other events.
The average rental cost of Promobot robot for a day is 1000$ for Promobot V.2 and 2000$ for Promobot V.4. Usually robots are being booked for 2-3 days to work at the event. As a result, the robot's owner returns their investments in the robot in 4-5 months. Each event can also provide orders for several months in advance.
Here you can read the story of how the robot met the president of a company.
Autonomous communication and movement, reliable technical support, multiple customization opportunities, recognizable design.
As with most technologies, robots too can have problems.
Promobot achieves quality through experience: we have been creating robots since 2015. Each robot passes more than 20 hours of tests before we send it to the client. If at any stage there are malfunctions, we fix them and do the testing again until the robot works properly and there are no issues.
Each Promobot has a one-year warranty by default. Our technical support specialists can help you 7 days a week. They monitor the status of the robot, can connect to it remotely and fix most problems. Often we are able to find out about the error and correct it even before the owner discovers it.
If the problem cannot be resolved remotely, we send out our technical specialist to solve it in person. In special cases, we replace the robot with a new one (never happened before).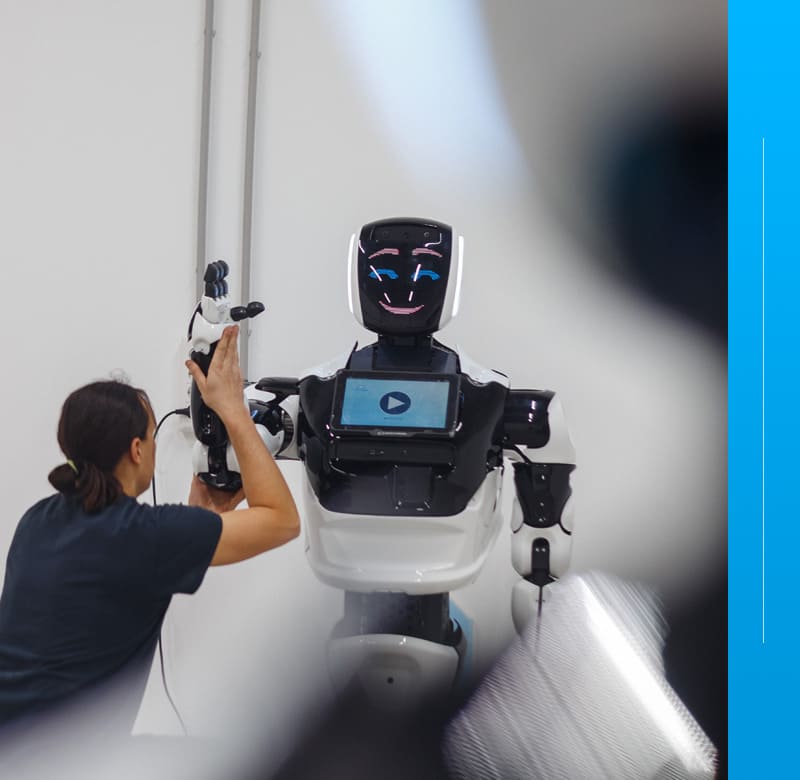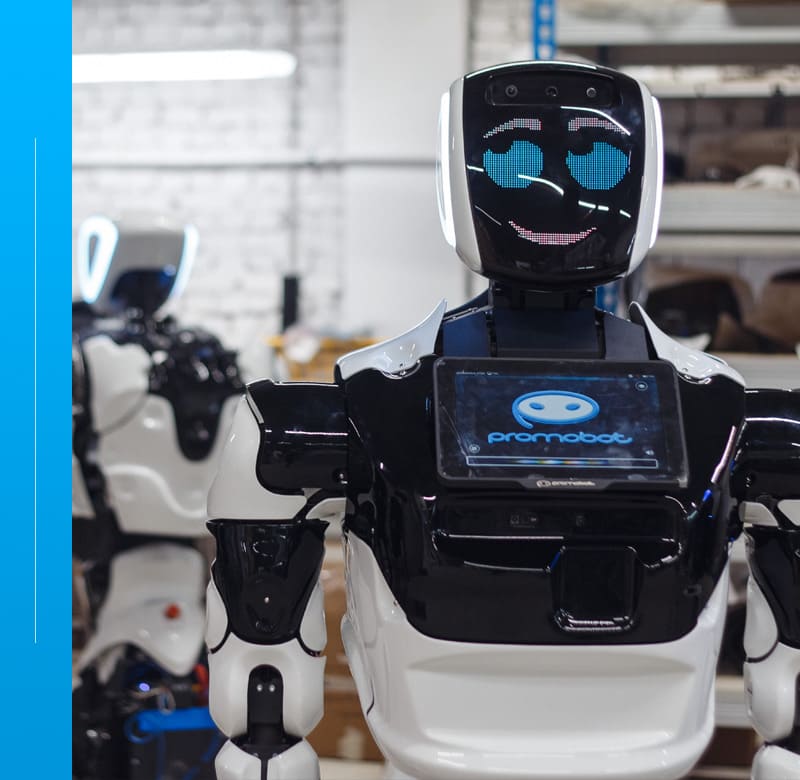 We provide discounts on the purchase of a second robot and subsequent ones. We provide discounts on case-by-case basis and they depend on configuration, model and volume of the order.
"Robot can't harm person or, through inaction, allow a person to be harmed," is the first law of robotics by Isaac Asimov.
Promobot robots are equipped with obstacle sensors developed by our experts. They identify obstacles both by sound waves and by refraction of light. The robot always knows if a person is standing nearby and can block its movement in time. Promobot will never attempt to hit a person and will not touch them during movement.
We produce Promobot at our headquarters in Perm, Russia. 80% of the robots' parts are produced locally, the other 20% (processors, video cards, components that can't be manufactured locally) are imported. Service robot is a very unique product, and many existing technologies simply did not fit our requirements, which is why we developed our own solutions. So far the specialists at Promobot designed servos, a microphone array, obstacle sensors, a speech recognition system, artificial leather technology and many other solutions in the field of electronics, mechatronics and software all by themselves.
Do you want to know anything?
Leave your contact details. Our specialist will contact you.
By submitting an application, you agree to the processing of personal data according to the privacy policy