Promobot is always open to cooperation and work with journalists. We are experts in service robotics, AI, and business development, with over five years of supplying new robot solutions to industries worldwide.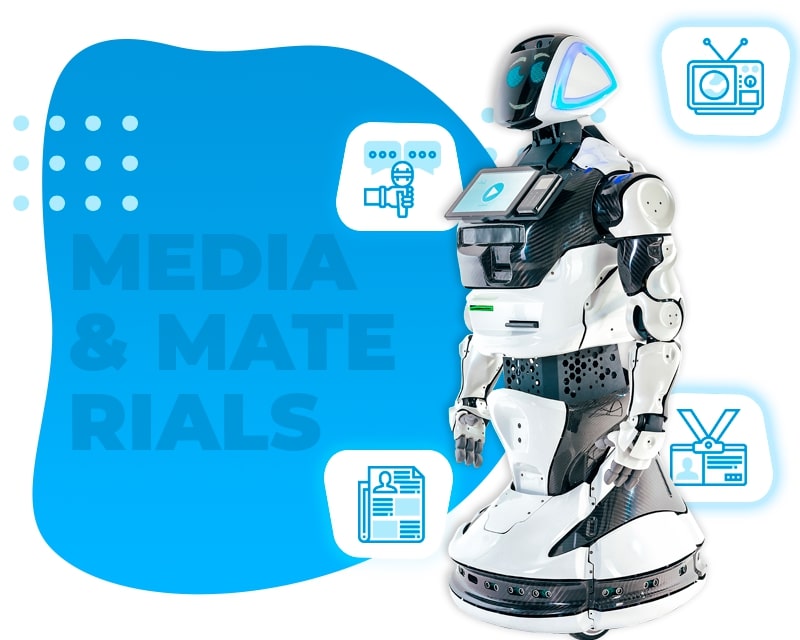 The best way to get in touch with us is to send us an email to pr@promo-bot.ai. We are ready to help you with your news articles, research, interviews, especially if you're working with:

Business development in the Americas, the Middle East, Europe, Asia

New technologies, in particular, robot implementations, news, etc.

Academic papers

Robotics and service robotics market
Keep in mind that this is just a part of what we can offer. If you couldn't find your idea in the list above ― do send it over to us, we'll think of something together!
Get in touch with our specialists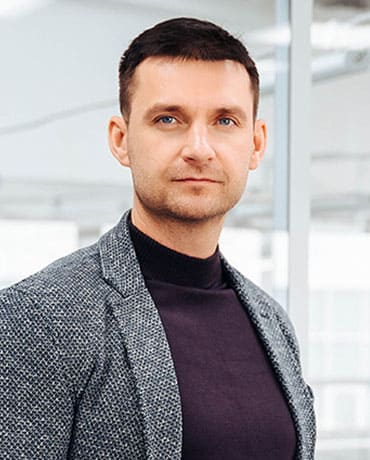 Ph.D. in Engineering Science; Singularity University Executive Program, Silicon Valley
Alex is the Chairman of Promobot. In 2016, he was named one of GQ's Most Influential People in the Science category. Get in touch with him if you want to learn about running multiple businesses and pushing technology forward right now, today.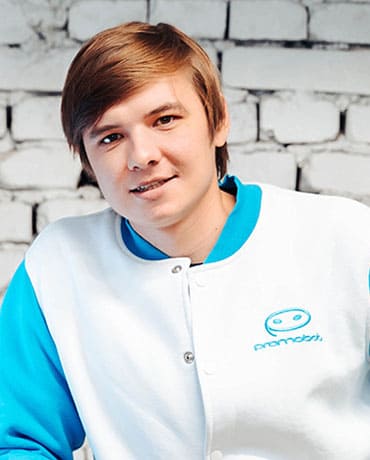 Oleg is the Co-Founder and CBDO of Promobot. He saw the company rising from a small-time gig with his university friends to one of the largest robot suppliers in the world. Get in touch with him if you want to know everything about Promobot and if you want to see Promobot coming to a city near you.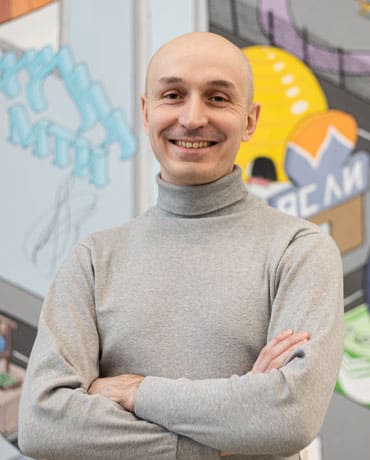 Ph.D. in Computational Linguistics from Tampere University, Finland
Andrey is the Head of Dialogue Systems at Promobot. Thanks to Andrey, Promobot is the only robot on the market that speaks 11 languages and can chat on any topic imaginable. Get in touch with him if you need an expert on linguistics, computational linguistics, programming, and everything language.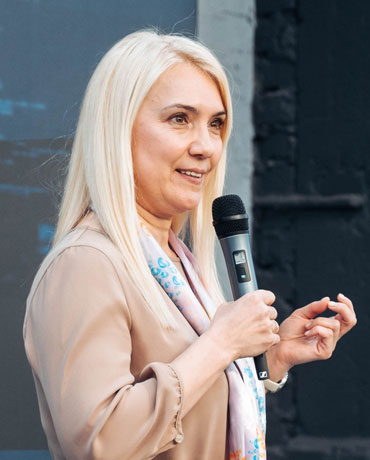 Ph.D. in Philosophy from Saint Petersburg State University, Russia
Elena is the Head of HRI at Promobot. She's the author of multiple publications on Human-Robot Interaction and ethics in robotics. Get in touch with her if you need a perspective of a woman in tech and an expert in how we perceive robots, and vice versa.
Some of Elena's publications and public talks
You can find hi-res photos and videos of Promobot for your articles, news, and social media by clicking links to your right. Use them at your discretion; no permission is required. We'd rather you use originals instead of compressed images from the Internet.
Subscribe to our newsletter
Don't miss the robot takeover of the entire human race.
Some words about us and our products:
Promobot is the largest service robotics manufacturer in Europe.
We work in the fields of mechatronics, AI, and neural networks. Our developments include autonomous navigation, dialogue systems, manufacturing of artificial skin and muscles. Promobot creates humanoid and service robots, while also engaging with human-machine interaction as a whole.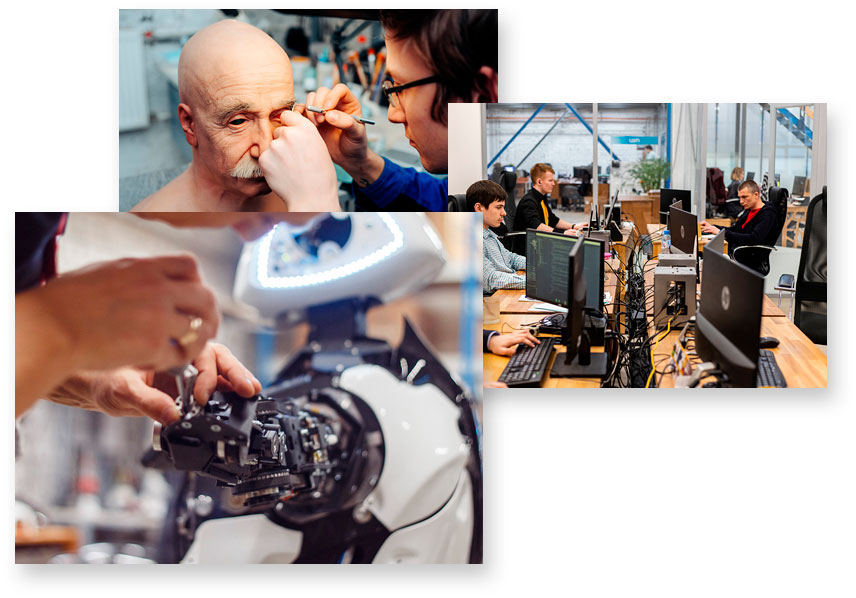 Our flagship products include:
Promobot robots operate in 40 countries around the world. Their line of work includes interaction with people at events, customer assistance, management of internal systems, and patient assessment for hospitals.
Service robot for business
Promobot V.4
communicates with people, moves independently, connects with third-party services: from databases to applications. The robot is autonomous – it does not need human control for its work.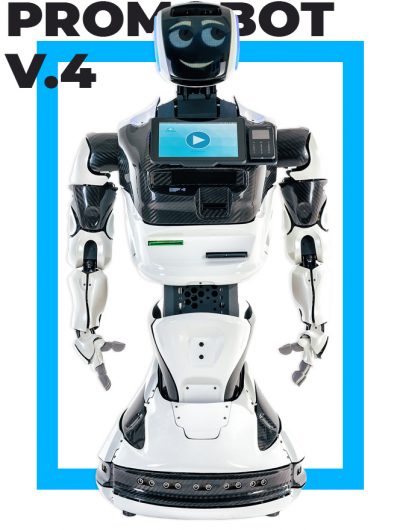 Promobot Robot Assistant is the most 'human-like' service robot. It communicates with people using AI, answers questions, and helps customers with services. It moves autonomously and doesn't require people to control its work.
Robo-C is an autonomous humanoid robot, which can look like any person, real or fictional. The robot can imitate the mimics and emotions of its prototype, communicate, and interact with the user.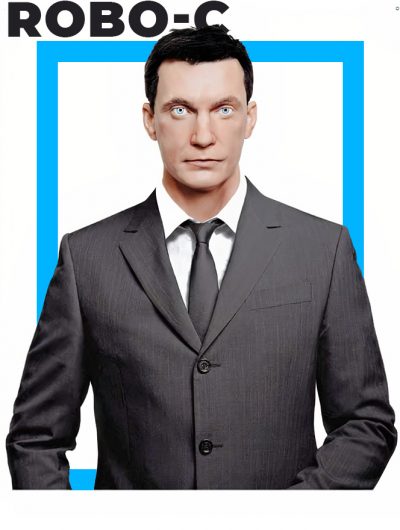 Robo-C works as an assistant, manager, or promoter in any organization. It improves the quality of service and increases customer loyalty.
Autonomous screening station
Thermocontrol provides contactless temperature checks of multiple people for offices and high throughput areas. Each check takes less than 5 seconds and ensures 0.2°C accuracy.
Don't miss the robot takeover of the entire human race.