Promobot partnership network and how to become a Partner
Promobot is developing a worldwide partnership network that includes 35 countries to date. And it still continues to grow: during 2018-19, more than 18 international distributors started to work with Promobot. Those distributors decided to switch from other robot developers to us, and here are a few reasons why: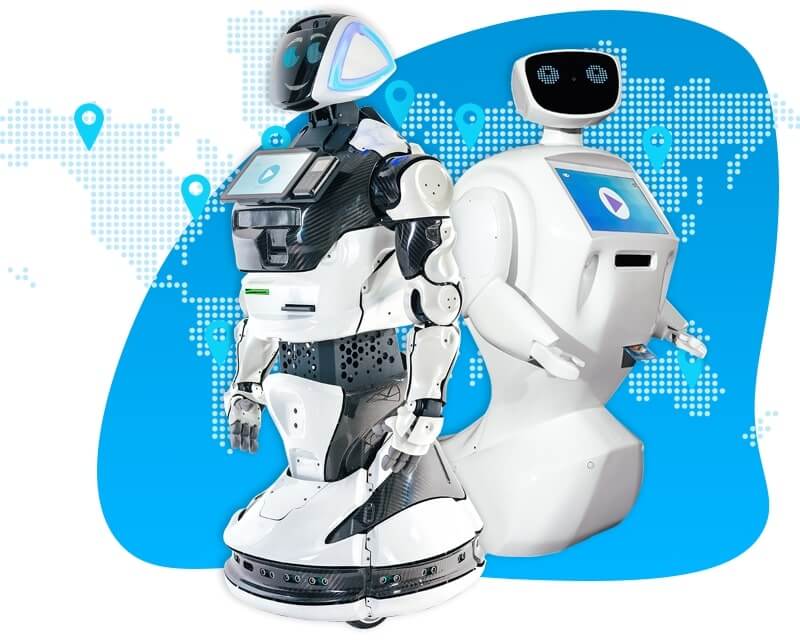 High quality of Promobot products
Our robots malfunction less often compared to robots from other companies. All of our Promobots are manufactured manually and undergo more than 20 hours of tests before we send them to the client;

High variety of Use Cases and customizable options
Promobot can be integrated with any software and third-party system. As a result, it can be implemented into any business: from banks to amusement parks;

Modern and attractive appearance
Promobot robot has a very attractive and aggressive design. Our robots are sometimes called 'the Lamborghini of robotics';

Advanced question answering system
The linguistic database of the robot is extensive enough to ensure the robot can answer any question and chat about anything;

Effective technical support
Promobot technical support specialists work 7 days a week monitoring each robot's activity online. Sometimes our technical support is able to detect and fix an issue quicker than it comes to our client's attention;

Affordable price
Promobot price is lower than the competitors'. We enforce the lower prices by optimizing the logistics, as well as taking care of other factors in the process;

Proactive partnership approach
We are always negotiating the best terms for our partner, open for a compromise and actively interested in the development of our partners' businesses. Our top management is always open to suggestions from our partners.
Those factors allow us to multiply our partners base at least two times each year.
Our partners make money from renting robots out for different events ― from forums to exhibitions to company events, etc.
The average price of one rental day for Promobot V.2 is $1000. For Promobot V.4 it's $2000. Promobot was featured at different events around the world: Kuwait Tech Expo, St. Petersburg International Economic Forum, Hannover Messe and many others.
Each rental process consists of 3 stages

Logistics
Robot is being transported to the event's location by truck. Often this can be arranged via the transport company.

Branding and info upload
Usually this process takes about 2 hours. We send out an event brief: with that you can specify what information will be presented white the robot is working on location: from promotional phrases to company info to special greetings. You can learn more about this process here.

Maintenance on-site
This will require a specialist who can look after the robot at the location.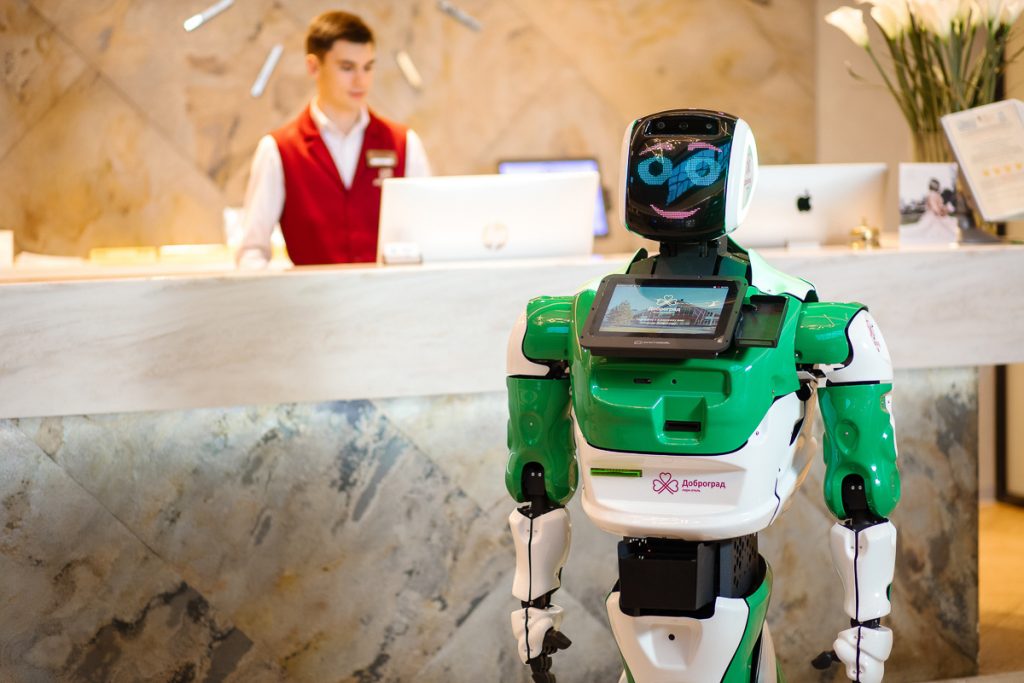 Your potential clients are
Advantages of this business include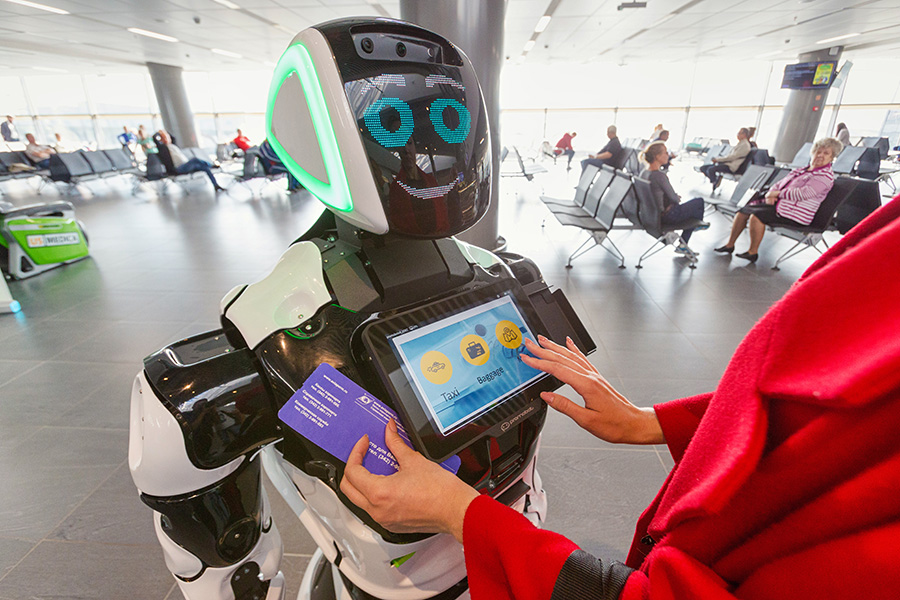 Aside from rental, partners can sell robots from their location. You can attract clients yourself and we are able to refer those who are interested to your company. Your client base includes but not limited to: business centers, malls, banks, schools, event spaces, museums.
As a manufacturer, we provide the warranty support ourselves. Our dealers can arrange the warranty and SLA between their clients and Promobot. Any expenses are covered by us in the process.
Advantages of robot selling

Competition
Little to no competition in the service robotics market. Because of that, the work is always comfortable, especially considering how good the robots fit the price to quality ratio.

Discounts
We provide discounts to our partners and provide an unlimited margin for your sales operation.

Partners interests
Partners interests are protected by Promobot. If you started working with the client, no other partners can contact them, we will prevent it from the start. All of the information on current clients and deals is tracked by us and updated by the partner.
After the robot is in place, certain maintenance has to be carried out for the duration of its work: installing updates, uploading materials, analysing and monitoring work and adding new functionality. A lot of companies can't find resources for that, they prefer paying for robot's service. The company that can provide the maintenance and service of the robot is our partner.
The average price for service level support is 20% of the robot's price per year.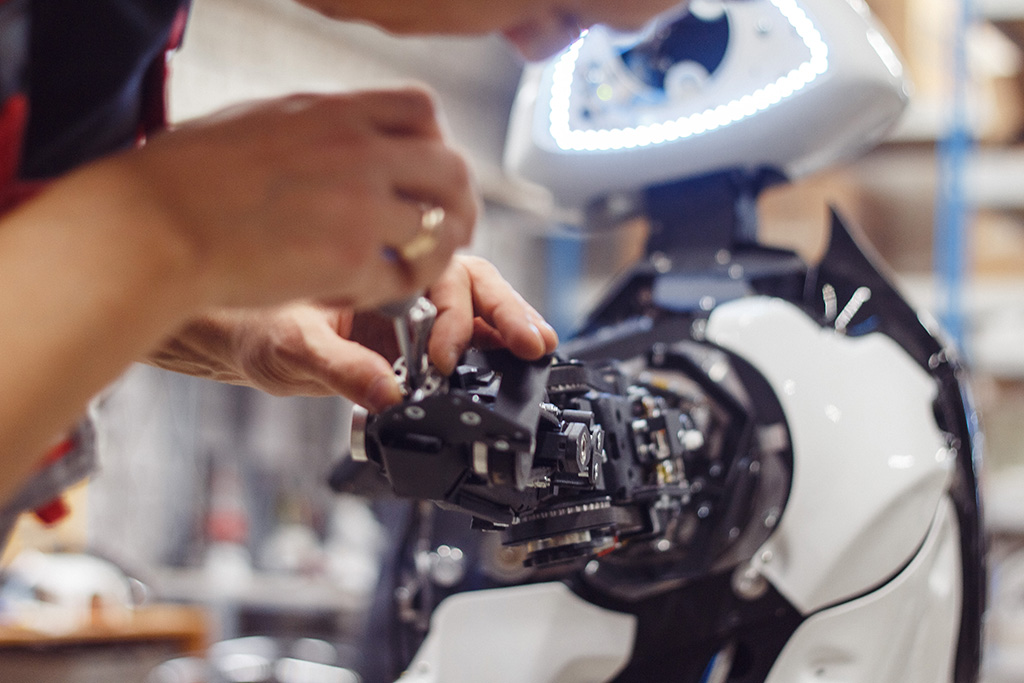 Advantages of service support provision include
04.

Use Cases development
Sometimes clients require more complex functionality to fulfill their tasks:
Each Promobot V.4 has a Software Development Kit that allows our partners to develop their own Use Cases in a form of robot applications. With SDK it's possible to create the UI design, integrate the robot with other hardware, software or databases, etc.
In order to create Use Cases a partner needs to employ a developer knowledgeable in C++ and JavaScript. Use Cases and integrations also can be carried out by Promobot Project Managers, the price of programming will include partnership discount as well.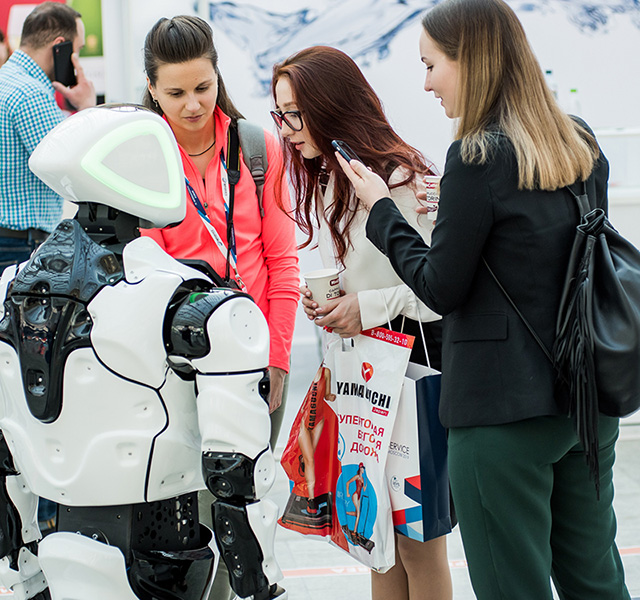 Advantages of Use Cases development

Passive income and potential for later reference
Once you develop the Use Case, Promobot can include it in the price list that will be presented to other clients later on. In the future, it will be possible to offer and implement the same case to other clients with your help.

A unique service
There aren't many Use Case developers for the robotics industry in general. In the meantime, the service robotics market grows almost 200% every year. Because of that, any developer in this area can discover the totally new market and attract a lot of clients immediately.
Promobot provides two types of partnership: Dealership and Distribution.
Leave your inquiry here. In the 'Message' area please specify that you want to become our partner. Our specialists will contact you shortly to inform on our partnership terms, as well as share our current price list.
By submitting an application, you agree to the processing of personal data according to the
privacy policy

A 20% price markup for future sales;

A dealers discount for the first order of two robots;

Partners profile on Promobot website;

Rental requests that we receive from around the world;

Training online for robot setup and general maintenance;

Marketing support
(website templates, sales scripts, ads setting, training in media engagement, commercial proposal templates, presentations, general content ― everything we can provide for the client).

Rights to an exclusive presence in a region;

A 30% markup + bonuses for successful work under sales plan;

A distributor discount for the first first order of five robots;

Partners profile on Promobot website;

Rental requests that we receive from around the world;

Marketing support;

Training online for robot setup, maintenance, troubleshooting;

Sales department training;

Media and PR assistance via Promobot channels.