In the midst of the coronavirus pandemic, a worker's health is an especially important issue.
It primarily applies to essential workers and those at continuing productions. We take a look at five reasons why a temperature measurement system is the best solution for the pandemic.
It keeps employees healthy
In the midst of the coronavirus pandemic, a worker's health is an especially important issue. It primarily applies to essential workers and those at continuing productions.
Ensuring the safety of your employees does not end with providing them face masks and gloves at the entrance. Multiple elaborated guidelines have been developed to maintain a clear environment, including disinfection machines, social distancing at a workspace, and regular medical tests. These solutions have been applied on the government level ― starting from government acts by the U.S. Department of Labor and states such as Pennsylvania and New Hampshire, and ending with private companies across the country: Walmart, Amazon, etc.
One of the most important aspects of maintaining this environment is temperature screening. Some companies purchase expensive infrared imagers, hire more people, or use remote thermometers in their process. A screening station provides more accurate measurements in comparison to the expensive infrared imager, while at the same time measuring people faster than a person with a remote thermometer. 
Temperature measurement at the entrance of the building allows quick detection of people with high temperature and their further isolation from other employees. A cross-contamination risk lessens significantly, and by detecting the issue the person can start treating symptoms much earlier.
It is recommended by the CDC 
As recently outlined in CDC guidelines, temperature checks are now a part of the process of bringing employees back to their workspaces across the country and world alike. While they are not a guaranteed method of detecting people with the coronavirus, they can be utilized as a proactive step in ensuring business owners treat their employees' health seriously, as well as generally improve the mood and morale of people working during the pandemic:
While temperature screening will not effectively identify asymptomatic cases, it still has the ability to catch positive cases and help prevent a potential outbreak in the workplace. In many instances, employers are implementing temperature screening in an attempt to alleviate employee anxiety.
Source: Temperature Screening: New Guidance From the CDC, FAQs, and Best Practices
In certain cases employees would seek out similar implementations at a workplace from their employer: 
Some employers are reporting that employees actually want to have temperature checks in place to know that their employer is taking meaningful, proactive steps to keep them safe. In other words, temperature screening may be as much of an employee relations (and public relations) tool as it is a prevention mechanism. 
It is a safety standard of the future 
Various experts in manufacturing and safety are now considering temperature screening as one of the future safety standards for the post-pandemic world. The same thing once happened when video surveillance and metal detectors were implemented over the last two decades.
These days, temperature screening is a widely accepted method of opening up territories around the world in the wake of the coronavirus pandemic. In the United States, 17 states have implemented obligatory practices for staff screening, emphasizing healthcare facilities. If a person's temperature exceeds normal this can be treated as an early sign of illness, allowing the person to take proper treatment and protect personnel.  
Sometimes these guidelines suggest involving another person in the measurement process, which not only puts that person in danger but also wouldn't allow them to create automatic measurement logs. Autonomous contactless work and measurement databases are both default features of Promobot Thermocontrol devices.
It saves you money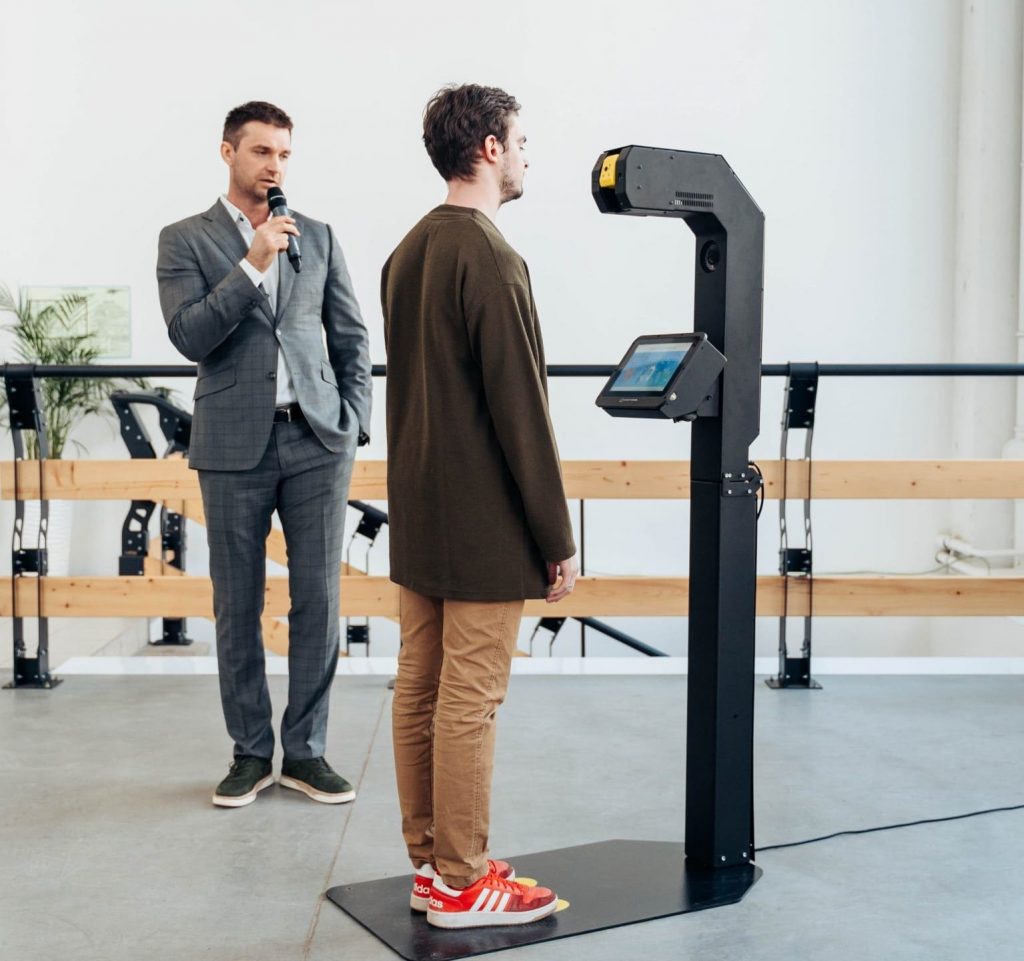 Screening terminal is a much cheaper solution when compared to hiring people or purchasing expensive thermal imagers.
The price of one such imager can start anywhere from 5 thousand dollars upwards to dozens of thousands. Promobot Thermocontrol in its most advanced configuration is still comparatively cheaper than a mid-range imager.
Screening stations can be compared to people with remote thermometers all the same.
To ensure a number of measurements similar to what Thermocontrol provides ― which is 600 per hour ― three people with three thermometers must operate in the area at any given moment. Three $200 thermometers plus a market average of $15 to $19 per hour for each worker round up to 7 or even 9 thousand dollars per month. The next month you'll pay 14 to 18 thousand dollars for a similar job, the month after that ― 21 to 27 thousand dollars.
In comparison to the limited human workforce, screening terminals can be utilized even after the pandemic ― for example, they can be integrated with access systems and issue entrance passes.
It will make you a modern company 
«We are a constantly evolving forward-thinking enterprise. We don't follow trends, we create them. We are ready to take on any obstacles that our clients or the world around throws us» ― if it describes your company, then technology must be your number one priority.
Automation is a process that saves hundreds of thousands in expenses further down the line. When robots replace people in completing monotone and repetitive tasks they require investments at the beginning, but later these expenses lessen significantly compared to maintaining the human workforce at all times.
Any company that uses technologies or robotics in their work receives a unique status of a technologically advanced company. As a result, everybody starts treating it differently ― from potential clients and users to partners and investors.