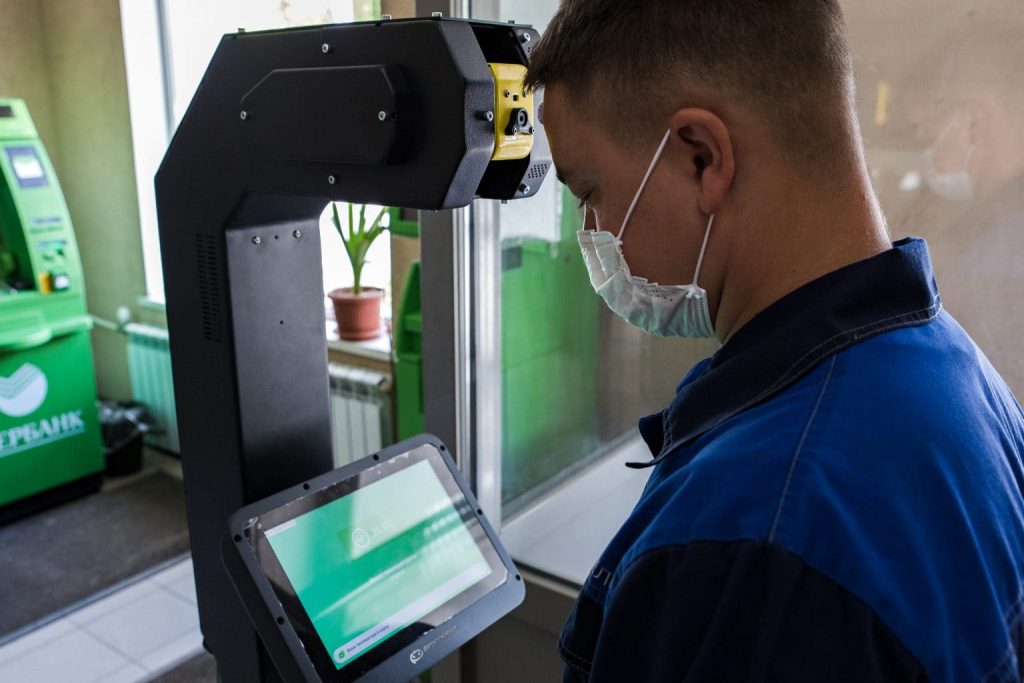 Solikamsk Magnesium Factory is the sole producer of rare earth elements, as well as the largest producer of niobium and magnesium in region. It holds a historical world record as the longest producer of primary magnesium carried out at a single production. Besides carrying out 100% of production of rare earth compounds, the Factory produces niobium and tantalum, 60% of marketable magnesium and 4 to 5% of titanium sponge for the entire country.
During the COVID-19 pandemic the company received a status of continuous manufacturer. The production is never stopping, as magnesium alloys are some of the most important production components in the space, aviation, and car industry. Niobium alloys are used to produce aircraft parts, with niobium and tantalum used in the production of supercapacitors. As a result, almost 3000 workers remain occupied at the factory.
Temperature measuring at the entrances had to be organized for all of the employees and visitors of the Factory.
Setup and use
«We commissioned the device in just a few hours ― comments Evgeniya Nasekina, Assistant HR and General Affairs Director, ― three terminals were installed at the main entrance and management's office».
The process of setting up the terminal is supervised by Promobot's technical support team, which means it won't be necessary to hire, nor train people for further maintenance of Thermocontrol devices. The client does not bear any expenses during installation and commissioning the device, be that timely, monetary, or personnel resources,.
Every day 2800 employees arrive at the factory, forming 3 daily shifts. All of them are subject to the temperature screening procedure before entering the workplace.
«The employees do not question the measurement, they can see the results immediately as it appears on the screen. Our colleagues say that It's important ― their own temperature is now in their best interest, even if it doesn't change. This allows people to keep their wellbeing in mind, which has become more and more important as we are still in the midst of a worldwide pandemic.
If a person's temperature exceeds 37°C, we conduct another measure manually, ask additional health-related questions and arrange additional tests if necessary. The use of Thermocontrol at this stage ensures our medical staff is not overwhelmed with constant mass screenings ― they get involved later on, once those with unusual temperature are determined and can be observed individually and more carefully».
In the last 3 weeks, we asked 5 of our employees to stay at home due to the station informing us of their increased temperature. All of our employees are now on sick leave and undergo treatment for their symptoms.
Opportunities
The collection of data as it pertains to each employee is something that we're looking forward to as far as further improvements of this system go. We want to see how often their temperature changes and during which periods of time» ― continues Evgeniya.
Every employee at the Solikamsk Magnesium Factory undergoes obligatory medical checks due to their occupation. «Once we see that the employee's temperature increases before the check, we can decide on their treatment and even detect chronic conditions early on» ― concludes Evgeniya.
Later on, Solikamsk Magnesium Factory plans to implement an access system at the factory: it will be integrated with Thermocontrol, and the station itself will be enhanced with additional equipment for medical measurements, as well as additional functionality, such as a system of food distribution for hazmat workers.