Smart rooms, robots as building managers, capsule hotels, and Netflix on-demand: we'll discuss what new technologies are already in place in hotels around the world, as well as what is to come in the future and how it will change the hospitality industry.
1. Room key in your smartphone
In 21 century, instead of a standard key, plastic keycards were implemented. These days, your classic metal key can be found mostly in motels, hostels, and in rural areas with smaller locations. It appears that keycards too will become old-school pretty soon.
Right now, several major hotel chains implemented room key functionality into smartphones. Most of them, both flagship and budget phones, have NFC implemented, which is the only required technology for room opening via special hotel apps.
This is a trend that can be found worldwide in Starwood, Hilton, Sheraton, Le Méridien, Westin, Four Point, etc. Hundreds of hotels allow their visitors to access rooms with their smartphones.
The next step in further developing the door opening process will probably be the implementation of a face recognition system. For example, an Alibaba hotel in Guangzhou already uses that technology.
2. Smart rooms
Not only can a smartphone open doors, but it can also turn the lights on, control temperature, and open curtains.
Smart Home technologies aren't a new thing in hotels. In just one touch you can turn the AC on and off, control the thermostat, sound system, or coffee machine, all of that with a hotel's phone app. A smart assistant can help with that too; recently, a new version of Amazon Echo was developed for hotel room use.
Things don't stop there ― a Marriott-owned Sinclair hotel in Texas features smart mirrors in every room. It serves as both a mirror and as a screen, where people can read on most recent news, watch videos, etc. ― just like in sci-fi movies.
3. Robotic workers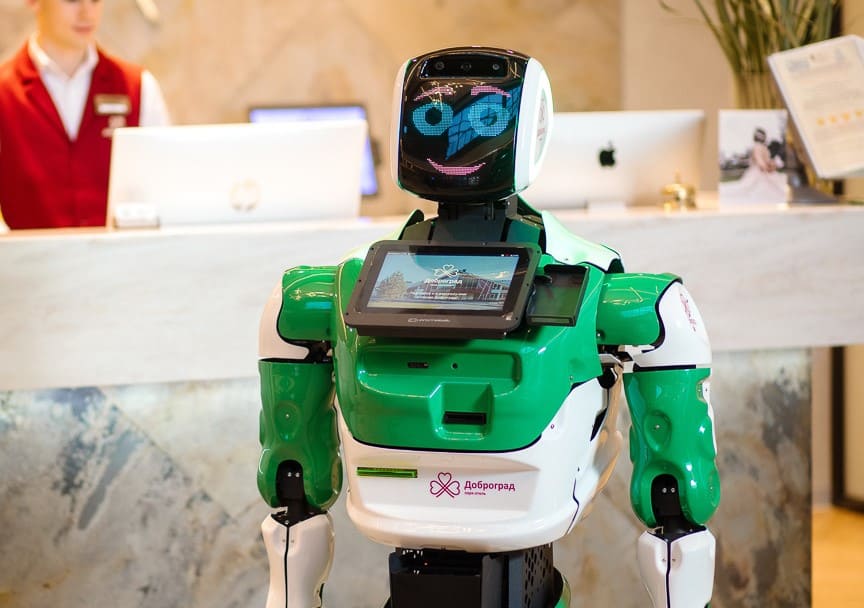 The fear of automation slowly but surely becomes reality in different parts of the world, including the hotel industry.
The first attempt at a fully robotized hotel was seen in Japan in 2015. The first hotel in history that used more robotic labor in its work than humans' had failed back then: people weren't satisfied with the service quality. Despite that, the service robotics industry took a significant leap forward in the last five years.
In Russian hotels, for example, a lot more often keycards are issued and rooms are booked via Promobot robots. They can help with ordering a cab, tell about things to do in the area, and can arrange a full-fledged tour. Robots can remember every guest and react differently to them. If necessary, Promobots can be integrated with the hotel management system and work to open doors in the building. Finally, they are very good chatters and can talk about all kinds of things ― from weather to art.
In Silicon Valley, delivery robots can be found. They bring towels at the request and can arrange small deliveries from local bars to the guests.
There are also pool cleaning robots. As a whole, it's more than likely that robots will be able to do the full cleanup at the hotels and maybe even become sentient, just like in the 'Love, Death & Robots' finale.
4. Autonomous hotels
At one point, capsule hotels were mostly a novelty that only worked for the tourists. These days, a lot more travelers 'on the budget' and technology lovers keep preferring them.
There are different capsule hotels of different price ranges in Japan, Singapore, Malaysia, the Netherlands.
There are numerous companies that are developing alternative solutions to capsule hotels. A moving hotel room on wheels was recently presented by Aprilli, a design company from Canada. According to the company's CEO, the first autonomous moving hotels will become reality by 2021.
5. Personalized entertainment
With WarnerMedia's HBO Max planning to launch in 2020 and Disney+ that was launched in late 2019, it appears that almost every media conglomerate launched their own streaming service, with technology companies slowly joining them. The number of Netflix subscribers around the world recently passed 158 million users ― four times the population of Canada.
Not too long ago, the hotel business giants were in search of a way to personalize TV to fit every resident at their hotel. These days, Marriott hotels allow anyone to connect their smartphone to room TVs to continue watching their movie or a TV show.
Soon there won't be any need even for those actions ― such technologies are being tested right now. The hotel system will automatically adjust once you enter or leave the room, making TV entertainment both safe and highly personalized.