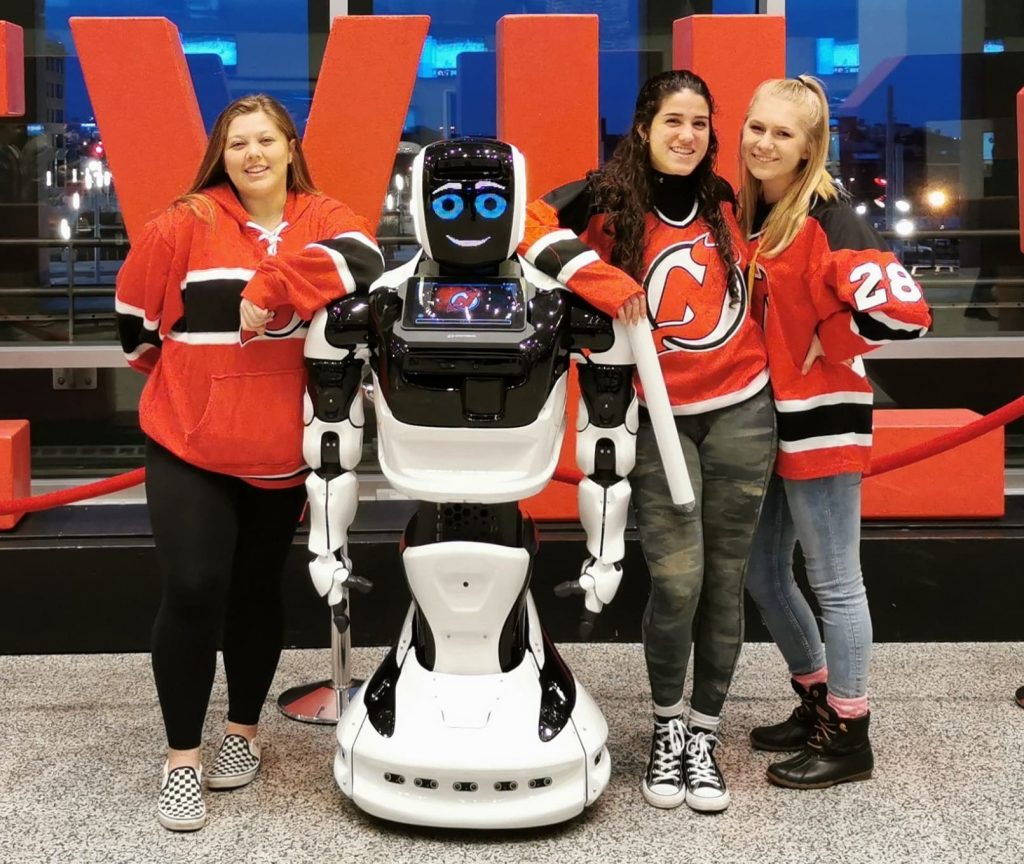 A humanoid robot was greeting and interacting with fans at Prudential Center for the NHL game between the New Jersey Devils and the Pittsburgh Penguins on March, 10th. For the NHL, this is the first time when a robot was greeting fans at the stadium as part of Russian Heritage Night in the NHL, this game featuring superstar Evgeni Malkin on the Penguins and magic man, Nikita Gusev on the Devils.
The robot was made by Promobot Corp., Pennsylvania, exclusively for this event. It interacted with fans, answered questions, and even helped fans navigate around the rink and learn about upcoming events at the Prudential Center. Approximately 15 thousand people visited Prudential Center on game day. 
"At Promobot, we create universal robotized platforms that can be implemented in different industries. The sports industry is definitely one of our key markets. The robot not only entertains people at the stadium but also assists the staff and employees ― it was developed specifically for operation in crowded areas." ― said Oleg Kivokurtsev, Promobot CBDO.
A special microphone array was developed in Pennsylvania that can help the robot with speech recognition in crowded places. Thanks to its obstacle sensors, Promobot can move autonomously while avoiding people and collisions on its path. 
The robot was provided by Russian Heritage Night, an organization that combines Russian aesthetics and hockey in the USA and Canada. Russian Heritage Night was founded by organizers, Clarence "Slava" Paller, who is a contributor for the Professional Hockey Players' Association (PHPA) and Head of Brand Partnerships and Athlete Relations at Gold Star Hockey and President of Play It Abroad Inc, Alexander Braverman who is also a prominent realtor in the South Florida Area.
"Russian Heritage Night (RHN)  is an important initiative to celebrate the contribution of Russian hockey from past, current and future players to the growth and development of hockey. At the same time, RHN is about connecting communities and cultures. Adding the robot was very important for Alex and me. The robot showcased science and technology of the future made possible by brilliant minds, forward-thinking and higher education. The robot also demonstrates the innovation of the Russian people." — said Clarence Paller, Co-Founder of RHN.