Now there is one more country in the map of our company. This time promobot is heading to Nigeria. It is not the first robot in African continent. There are several promobots working in Ghana and Congo.
New promobot users are representatives of BTL Africa's Nigerian office. For more than 10 years this company organizes events and provide staff for commercial, promotional and marketing forums. The most known clients of this company are Coca Cola, Vodafone, Samsung and others.
In the new country the robot will take part in promotional activities of BTL Africa's customer companies. The robot will attract attention to the company – at exhibition or at forum, in a mall or in an airport. The robot can tell you about services, give a discount ticket or play with you.
"The pandemic year was a big challenge for our business. All plans were revised, we had to find new solutions to advance the company. We started our online service. However, our main expertise is still focusing on offline events, in producing robo-promoters. 2021 gave us some opportunities, but COVID restrictions are still actual. We introduced new technologies in order to keep the company working. New promobots were a good solution. It gave us the opportunity to make events on almost pre-pandemic level. We have a lot of plans in this area, it can boost our business to the next level" – says Antuanetta Ama Bokaye, BTL Africa representative.
Robot-consultant is an autonomous service robot for business. It fully replaces humans. It speaks with the clients, answers the questions, consults, moves freely in space. Thanks to artificial intelligence, robot knows almost everything about the company. It knows how to find something, where to buy, how to choose a product – and never forgets it.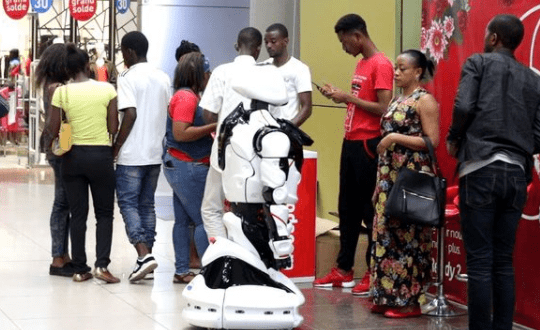 "We see that the event industry is changing – promoters and hostesses are replaced with robots, we see interactive stands, screens. The pandemic and different restrictions only pushed the industry to these changes. Our decision to make a consulting robot helps companies to attract and keep the attention of potential customers, build loyalty and solve marketing problems. The future of events is based on these solutions" – says Oleg Kivokurtsev, CBDO of Promobot.