In a modern museum, people find out robots can be more than innovative exhibits.
In a modern museum, people find out robots can be more than innovative exhibits. Today, technologies can arrange and conduct tours, communicate with visitors, and perform common tasks of staff members. In this article, we look at various tour robots working in museums and spaces worldwide.
Promobot V.4
Developer: Promobot, USA.
Use case: Museum of Contemporary History.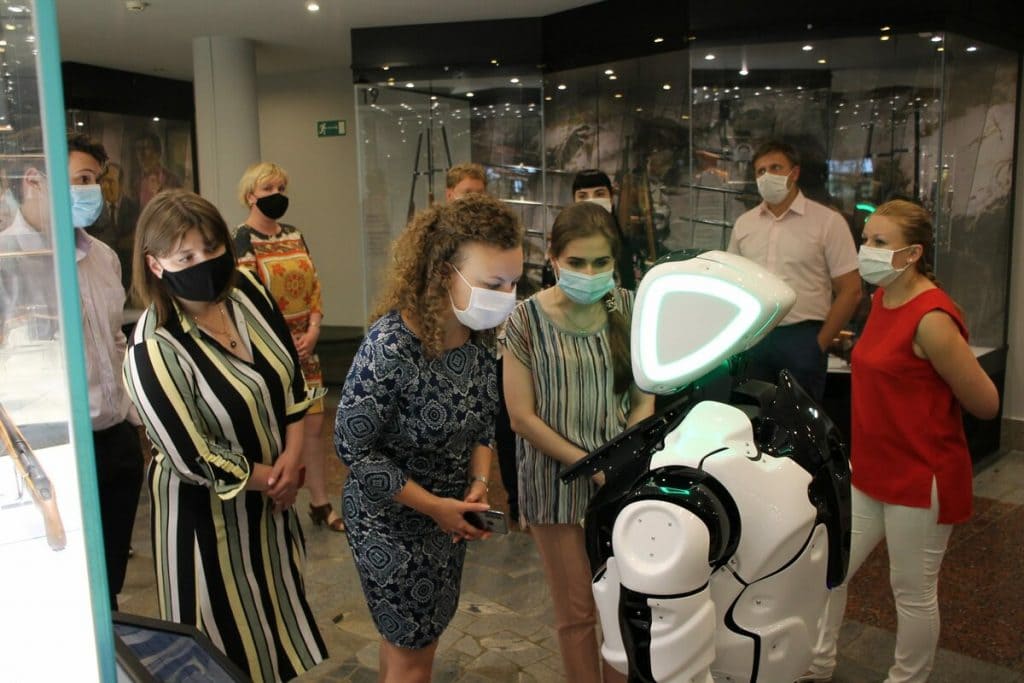 Specs: 147-157 cm height, 10-hour battery life. Its peak speed is 5 km/h.
Features: Promobot greets guests and invites them to join in on a museum tour. It talks about the exhibits, supports conversation, answers questions, and even dances at the request. The robot speaks 11 languages: from English to Turkish.
V.4 recognizes people's age and sex to use a specific dialogue option. It can remember thousands of people by name and face and use more than 100 thousand speech modules in its communication.
The robot travels autonomously between exhibits and uses a Lidar-based mapping system to recreate its work area. Movement sensors allow Promobot to avoid active obstacles, i.e., people.
Promobot can take pictures of people and print them out using pre-installed hardware. These photos are an excellent souvenir for every visitor.
Pepper
Developer: SoftBank Robotics, Japan.
Use case: Smithsonian National Museum of American History, Washington, USA.
Specs: 120 cm height, 28 kg weight, 12-hour battery life. Its peak speed is 3 km/h.
Features: Pepper dances and poses for the camera, talks about art and engages with people through dialogue and trivia questions. The robot communicates based on a specific topic and provides relevant information depending on the request. People can ask about an exhibit, its history, and how it was preserved throughout times.
Pepper reads people's emotions and reacts with a museum exhibit or painting. It uses face recognition algorithms and displays images on a built-in chest screen.
There are 50 images to display the robot's emotions, including happiness, sadness, anger, confusion, and neutral expression.
Haesol Robot 2
Developer: Corebell system, South Korea.
Use case: Daegu National Museum, South Korea.
Specs: 120 cm height, 60 kg weight. 6-hour battery life. Its peak speed is 1.2 km/h. The robot equips 12 ultrasonic sensors, a gyroscope, and a GPS.
Features: The robot shakes hands with visitors, helps them with directions, and can even accompany people as they approach different exhibits. The robot has a built-in camera for remote monitoring of its work.
RoBoHon
Developer: Sharp, Japan.
Use case: Kyoto itinerary, Japan.
Specs: RoBoHon is a robot hybrid, which means you can operate it with just one hand. Its weight is 0.4 kg, and its battery lasts one day. The robot has a 2.6-inch display and an 8MP camera. It runs on Android 8.1 OS with Qualcomm Snapdragon 430 CPU.
Features: RoBoHons tell about the city's sights in English, Chinese and Japanese languages. Taxi passengers can ask robots about the history and culture of Kyoto.
People can use RoBoHons to take calls and photos. Robots are available from most city taxis and are free to take on a trip with you.
Kiki
Developer: AlfaRobotics.
Use Case: Art Museum of Volgograd.
Specs: 160 cm height, 80 kg weight, 8-hour battery life. Travels using one guide wheel.
Features: Kiki conducts tours in one of art museums. It tells visitors about sculptures and paintings, as well as authors' biographies. Visitors of the museum can communicate with the robot using common questions asked of real guides.
Slowly but surely, robots assume everyday tour guide tasks. Soon enough, they might take most human duties and conduct tours without taking breaks, while communicating with and entertaining visitors, answering their questions, and promoting the museum's services. Besides, robots never get sick or go on vacations.