Modern robotics solutions are utilized to assist people and optimize the workforce in different industries. Current service robots provide various functionality that now can be up to par or exceed requirements put onto employees and release them from repetitive tasks and routine work. Recently, a service robot by Promobot was employed at a car dealership in Commack, New York. It assists managers and attracts new customers. Peter Galante, a service manager of Primary Motors Inc., told the story of implementation.
Our car dealership has been operating since 1980. We understand the value of excellent customer service: it must be attentive and it must be consistent. Every customer desires a personal approach, and every customer is different. In that regard, Promobot's functionality quickly comes into play. It can keep contact information for every person at their consent. The robot speaks 10 languages which helps us communicate with a prospective client better. The robot is very reliable ― the chances of it showing up to work every day is much higher than those of a human employee. The ROI of getting an AI employee is outstanding ― with Promobot we hired a salesperson for many years to come at a cost lower than a 1 year's salary and commission.
We were investigating current robot manufacturing companies for a while. After a lot of research we decided to go with Promobot. It is the most affordable robot worldwide for the functionality that it provides; Promobot can do everything that is required for a salesperson at the car dealership.
We got in touch with iClone Robotics Inc ― an authorized Promobot's partner and distributor in the US. They helped us with the buying process and are now providing service and local maintenance for Max. Their motto is 'Tell us what you require, and we will provide a unique look and functionality that matches your business DNA'. Moving forward, we will continue working with iClone Robotics to extend our AI functionality.
Our Promobot is called Max and he is working at Primary Motors as a Sales Assistant. So far we are very satisfied ― customers love Max and we are getting more traffic to the dealership without spending any additional money on it. Every new visitor is very surprised and very interested in chatting with Max, and now we are getting repeated visits from people. At the moment, Max is the front office employee of the dealership. People receive the information by communicating directly with the robot, therefore having a great experience of getting their car and chatting with Max.
How it works:

A client comes to the dealership office, Max greets them and gets acquainted;

Max offers different options at the dealership: buying a car, leasing, etc.;

The robot also collects contact info from the client;

The client asks Max about current options: what cars are available, pricing, payment methods, etc.;

After consultation and collecting info Max transfers it to the manager. Afterwards, the client proceeds to finish the paperwork with the manager.
Max can provide any info about the services available at the dealership; he shows the cars for the customer' price range and then refers to a sales manager who can assist with things like a test drive. A repeated visit from a customer is its own experience ― Max remembers all the customers and greets them by their name. Even without tracking down the exact statistics it is apparent that more people came through our building since the arrival of Max.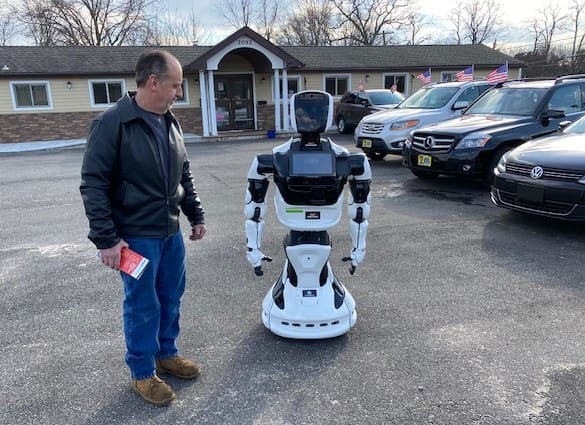 While adjusting the Robot to the Dealership environment, we were enjoying the technical support of Promobot and iClone Robotics. The process itself didn't take too long and everything went just as we planned.
Another advantage of Promobot is its open API. Currently we are ordering a new dealer management software system for our internal work. Because of the robot's API we can easily integrate it and get even more functionality out of Max, for example, fill out documents for leasing and purchasing.  
We are planning to implement more robots in our work later on. While we are not a very large dealership, we think a few more robots would definitely ease our operations. There are other robots available from Promobot ― a humanoid robot Robo-C for example. We are interested in having it, however we don't really know what type of appearance is it going to have.
I think some of the funniest situations with the robot happen when it starts dancing. The moves performed by Max put our customers in a great mood, bringing smiles on everyone's faces. And of course whenever Max says 'I love you!' ― people never heard this from a robot before 🙂