Promobots Enters The retail Space In Reaction to Coronavirus disease (COVID-19) To Work As A Business Service Robotic Assistant.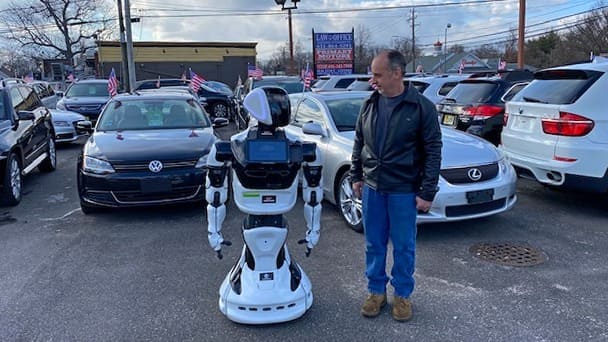 Primary Motors Inc., a car dealership in Commack, NY, today employed the first robot salesperson at a car dealership. The Promobot robot will greet visitors, request contact information and ascertain the customer's interests. Then, the robot will alert the appropriate sales associate and wirelessly transmit all the relevant information.
In the dealership, Promobot robot offers information to customers on available cars, pricing options and best solutions for each client.  The robot can even help a customer schedule a test drive. After a consultation, the robot refers visitors to a specific sales manager based on customer requirements. This eliminates wasted time and allows fewer associates to handle the same number of customers.
The robot communicates using artificial intelligence and can independently move while avoiding obstacles. Robot owners can easily add new expressions, create customized movements, emotions and applications. They work in airports, museums, on security teams, doctors offices, and as building managers across the world.
"Promobot is an open platform that we constantly develop new use cases for and enter new markets," said Promobot CBDO Oleg Kivokurtsev. "The car sales industry is relatively limited so the quality of service is often the biggest priority. Unlike humans, a robotized sales consultant won't make mistakes, never gets sick, never gets tired, and can chat and consult all day long. This solution will help car dealers complete sales and grow immensely."
The first robotized sales consultant was brought to life thanks to a collaboration of Promobot Corp, iClone Robotics Inc and Primary Motors Inc. The technical support of the robot will be carried out from a Promobot office in Pennsylvania as well as iClone Robotics Long Island office. Today, Promobot robots work in 38 countries around the world, including several dozen robots in the US ― they can be found in Las Vegas, San Francisco, Philadelphia and Miami.
"Promobot is the most affordable robot worldwide and also the only one that could perform all the functions required for a salesperson at the car dealership," said Primary Motors Service Manager Peter Galante. "Every new customer is very surprised when they see the robot, they are very interested in speaking to Max, the name of our new robot. We are not a very large dealership but a couple of more robots will definitely ease our operations."
Promobot company was founded in 2015. Today, Promobot is the largest manufacturer of autonomous service robots in Europe. Promobots work in 38 countries as administrators, promoters, consultants, guides and building managers. Promobot robots assist and optimize the workforce and can be found in the metro, airports, Dubai Mall, IKEA stores and other crowded places.