Promobot V.4 is already well-known all over the world, and it is not surprising that they have started to operate in the hot Arab Emirates. Sergey Memus, a head of Robot DXB (UAE), told about Promobot robots ended up in the country of "Black Gold".
From the national dance to "military greeting"
In the UAE we were focused on searching for attractive startups, and we would like their products to be shown to foreign partners. Due to one of the founders of Promobot company, Alexey Yuzhakov, in 2014, in Dubai it turned out to come to an agreement on the supply of Perm robots to the southern country.
We have sold 5 robots so far, and we are also deeply involved in the business of renting out robots. Promobot robots were appreciated a lot by the Dubai residents, the robots welcomed and amused visitors. We even managed the robots to be programmed with performing choreography. Promobot robots performed a traditional national dance and a "military" greeting.
Hello, Sheikh!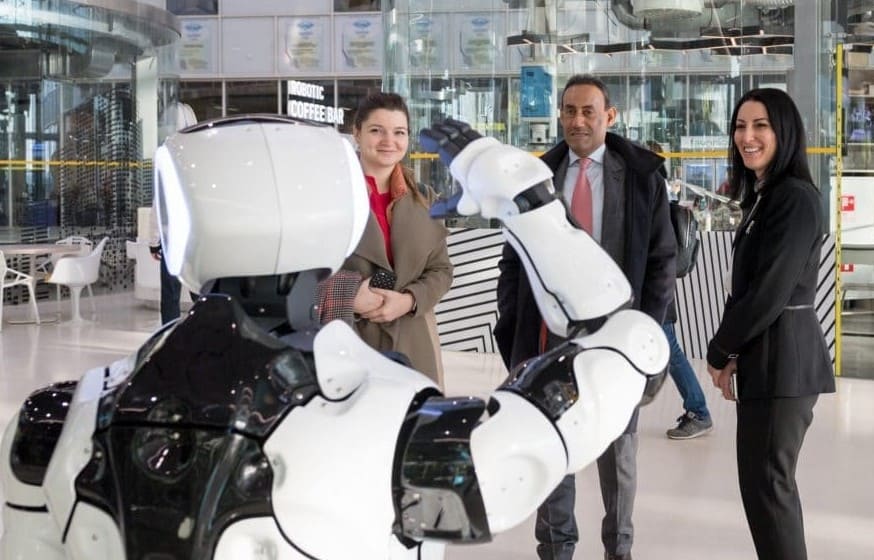 Robots play an attraction role in shopping malls and other crowded places. Robots fun and wow people. In this case, the most valuable feature is face recognition of different nationalities. One day, Promobot was brought in for a reason to greet the sheikh.
Promoting Promobot robots in the United Arab Emirates, we realized the importance of such equipment for our customers, the robot, therefore, is a privilege today. The robot still remains a unique product in all respects. First, we became aware of its great capacity in terms of communication.
Considerate relationship
If you want to get this "baby", you need a qualitative high-speed Internet connection. At the same time, the robot can withstand (with irregular reboots) long eight-hour events, and dance shows, as I have mentioned before.
Although, any query can be settled due to reliable relationships with the manufacturer that we instantly managed to achieve. Also, in response to fast technical support, we are entering new markets together and, I hope, we resume to spread Perm Promobot robots over the rich Arab Emirates.