A robot successfully passed the probation period in the Abu Dhabi (UAE) police. Now, three more robots will start working in the structures of the Ministry of Internal Affairs.
The service robot Promobot began work at the Abu Dhabi police office in June 2020. After a year of operation, police management decided to formally incorporate the robot into the facility's infrastructure and further scale the experience to other parts of the UAE.

The robot's duties are as follows: patrolling, CCTV-monitoring, police officers' surveillance, temperature measurement and policing. According to the developers, Promobot is the only service robot in the world that speaks Arabic.
"During the year, we tested and refined all systems and internal integration of the robot into the site infrastructure. Finally, we were pleased with the result. The robot does help relieve police officers from routine patrol work and limits human contact during the COVID-19 pandemic. Police officers are always subject to critical decisions, and we cannot allow their work to be influenced by external factors. The safety, health and even lives of citizens depend on it" — says Suhail Al-Khaili, Executive Director of Abu Dhabi Police.

Thanks to the successful pilot project, a project is now being launched to equip the Police Departments in Dubai, as well as in the emirates of Sharjah and Ajman, with the Police Robots.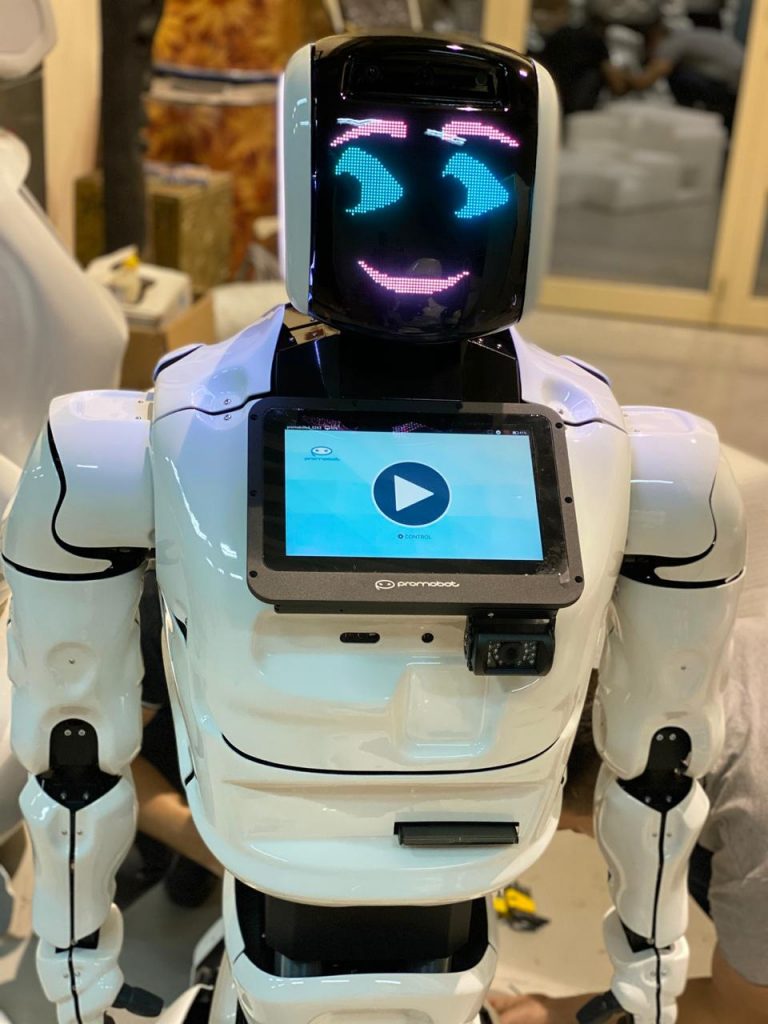 For the robot to perform its duties effectively, its creators, together with the UAE police, have developed a special linguistic database containing several thousand Q&A, as well as a face recognition system. The Promobot robot "knows by sight" all police officers, visitors and wanted criminals.
The robot is also equipped with obstacle sensors developed by Promobot engineers and a non-contact thermometer. Sensors allow the robot to move freely and patrol areas, avoiding obstacles, while a non-contact thermometer allows the robot to monitor the temperature of police officers and visitors.
"This is not the first time we have developed such a robot: our robots are already working in the Kazakhstan police, cellular communication branches in Turkey, and the National Bank of Oman, where they perform similar tasks. In this position, the robot eliminates all so-called "human error" – it does not get tired, is not rude to visitors, is not late for work and, most importantly, is never wrong. A human can forget the answer to a certain question or inattentively take the wrong temperature, but a robot never does. This is impossible"— says Oleg Kivokurtsev, CBDO of Promobot.
This is not the first robot Promobot in the Arabian Peninsula. Robots can already be found in the Dubai Mall (UAE), the world's largest shopping mall, the National Bank of Oman, a network of clinics in Kuwait and schools in Saudi Arabia.