Long time Promobot not pleased us with digests. But we have collected all the latest and relevant news for you.
Promobot visited SLUSH 2016
From November 30 to December 1, the international exhibition "SLUSH 2016" took place in the city of Helsinki where investors, startups, and journalists from around the world gathered. Promobot had a unique opportunity to speak in front of that entire audience. 25 startups were represented at the stand from Russia, among them: Marvel Mind, Cinemood, Kleiber bionics and others.
More than 100 companies showed interest to Promobot – from such countries as Mexico, Finland, Czech Republic, Ireland, Vietnam.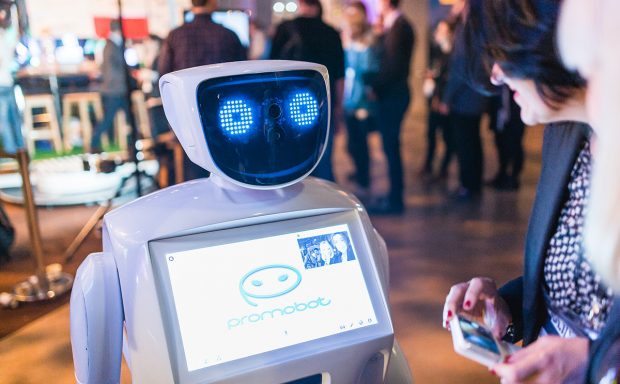 At the moment, we are working most closely with Finnair, the national airline of Finland, the country's largest airline. Perhaps next year the guests of "Slush 2017" will be welcomed by Promobot, at the airport of Helsinki.
Also, among the guests of Slush was Mike Butcher – the editor-in-chief of the popular international website TechCrunch, who already knows about Promobot of the third version.
Promobot: now in Chile and Spain
Contracts for the supply of Promobots of the second and third versions were concluded with two foreign companies. Promobots can now be found in Chile and Spain.
A contract was signed with SMART SOLUTION Ingeneria Spa from Chile. As many as 5 robots are moving permanently to Chile!
Robots will be primarily used as concierges in buildings and as consultants in stores. SMART SOLUTION has been operating for 27 years in the South American market in the field of building maintenance and security systems integration.
A contract for the supply of Promobots was signed with the Spanish company Ger Shuler Global S.L, which has extensive experience in doing business in the market. Now the company is an official Promobot dealer, deliveries will take place in 2 batches: first 3 robots, then 2 more robots will follow.