This is the digest of the Promobot company. Here we share the latest news, tell about our achievements and interesting events. In this text is all the most important of June. Subscribe to us on Facebook, Instagram and Twitter, to be the first to learn the latest news.
Deliveries to new countries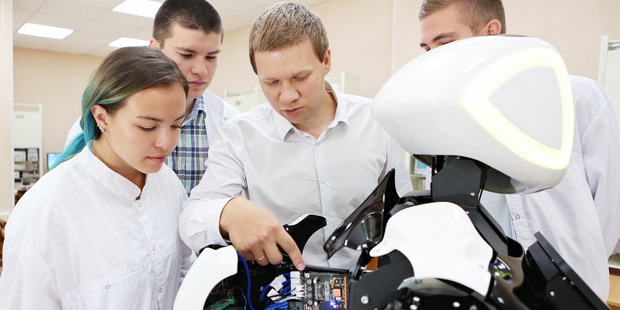 We have signed contracts for the supply of 28 autonomous robots to medical institutions in Israel and Kuwait. The contract amount is $500 000. The next two years 10 robots a year will be sent to these countries, they will take the place of administrators and consultants in clinics.
Also, 28 robots will go to Sweden and Saudi Arabia, but for educational purposes — to conduct part of the classes, to act as laboratory benches. Swedish schools will receive 8 robots in two years, and Arabian universities will receive 20 units.
In June the number of countries on the Promobot map rose to 34.
Promobot at IMPACT AI 2019, in Ottawa, Canada
IMPACT AI conference brings together leaders, influencers, and practitioners to explore the principles, ideas, and real-world examples of a responsible artificial intelligence. By connecting those leaders of the world's transformation towards an inclusive AI ecosystem with an audience curious about issues in technology, IMPACT AI answers the questions of why responsible AI is important, how it will be accomplished, and where it's happening in 2019.
Promobot became the hero of the promo video of the World Expo 2020
The video appeared on the exhibition's Youtube channel. It has 23 million views.
The World Expo will be held from October 20, 2020 to April 10, 2021 in Dubai (UAE). It is expected that the event will be attended by 25 million people. The World Expo in Dubai will be held under the motto "Connecting minds, creating the future". Scientists, entrepreneurs, authors of social technologies from around the world will present their projects in the categories of "mobility", "sustainable development" and "opportunities".
The Promobot appears in the first international promo video of the exhibition. When it comes to human capabilities, the android denies that humans have finished exploring the planet. It is symbolic: Promobot robots work as administrators, consultants, guides and police officers in 34 countries of the world, replacing or supporting "live" employees.