On July 11 a delegation from Riyadh province headed by vice-governor and prince Muhammad bin Abdul-Rahman al Saud visited Promobot.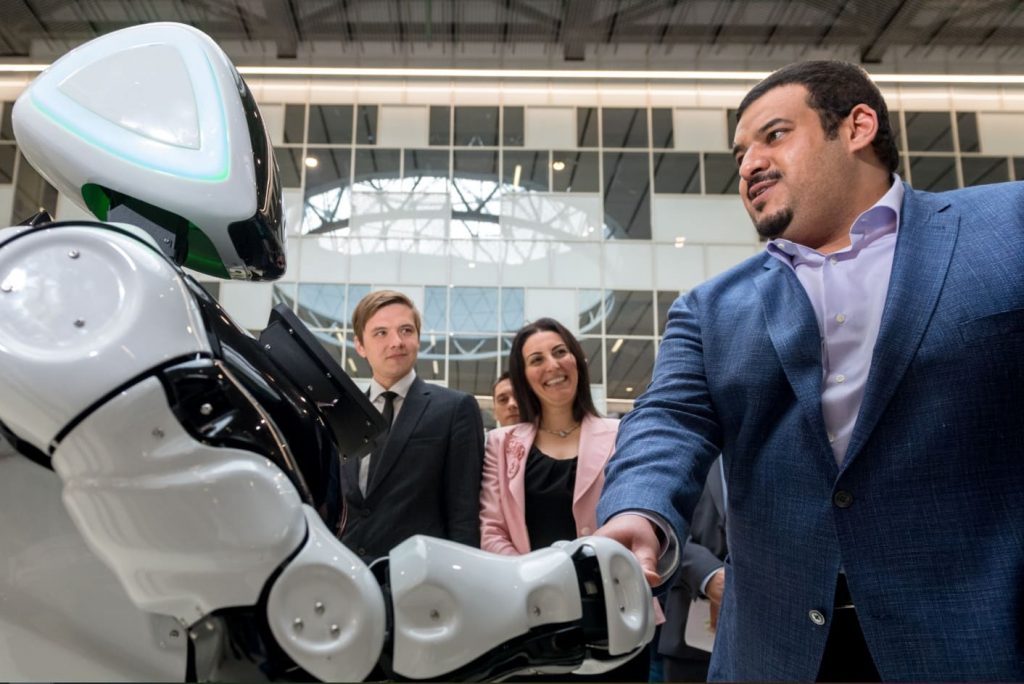 The first who shook hands of prince of Saudi Arabia in Technopark was a Promobot robot.
Promobot is an autonomous service robot from the same name company. The robot recognized the prince's face and greeted the high-ranking guest: "Good afternoon, Muhammad bin Abdul-Rahman al Saud, we are glad to welcome you. How are you doing?" The prince answered the robot: "Hello! I am doing great! Do you speak Arabic? — I speak nine languages, — explained the robot, — including Arabic. And I'm getting smarter every day."
After getting acquainted with the robot, the prince praised the developers and offered the robot to shake hands. The android extended a mechanical limb for a handshake.
Oleg Kivokurtsev, co-founder of Promobot:
"We have partners in Riyadh and in the suburbs of the Saudi capital. At the moment there are three of our robots. One works in a clinic in the suburbs of Riyadh; the other – in the capital's high-tech Technopark; where it advises visitors; the third will become a digital laboratory in one of the Arabian universities. In General, we are very eager to gain a foothold in the Saudi market; we are open to technologies such as Promobot, and our partners have the financial capacity to implement such solutions. For our part, we were the first in the robotics market to teach a robot to speak Arabic."
Today "Promobot" works in 35 countries, and a significant share of deliveries are in the Middle East. Promobots work at the Dubai Mall — the largest shopping center in the world, national Bank of Oman, hospitals in Kuwait.