The Promobot robot provided consultations, answered questions and helped people at an open class on technology from the US Navy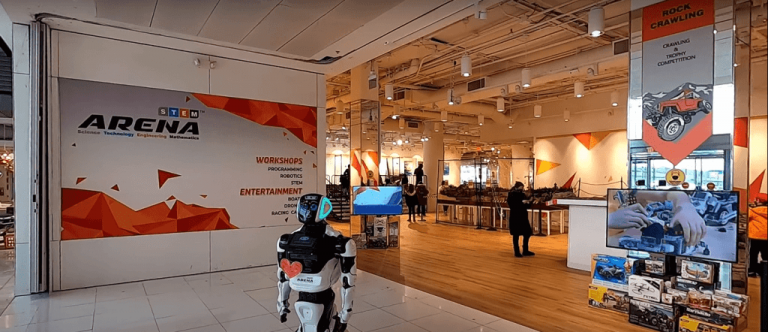 Arena STEM, an educational and entertainment center located in Westfield Garden State Plaza, New Jersey, USA, hosts a Promobot robot. Arena STEM hosts various events, workshops. A workshop from the US Navy was held on August 21.
As part of the workshop, Navy representatives spoke about the latest advances in US military technology and the role and importance of learning about engineering. One of the attention-grabbing elements at the workshop was the Promobot robot, which communicated with people, provided consultations, attracted attention and encouraged visitors to sign up for the event.
The Promobot and Arena STEM specialists loaded the event programme into the robot, set up a linguistic base and set up an American accent, specifically to attract people to the workshop.
Our company is actively developing robotics education solutions and introducing them around the world. It is important to us that the robot can not only attract attention, but also benefit our customers. We are delighted that our customers are implementing projects in different areas using our robot, – says Oleg Kivokurtsev, CBDO of Promobot
Promobot and Arena STEM have been working together since 2020. Arena STEM education and entertainment centers actively use the company's robot. At Arena STEM centers, children have access to the technology infrastructure and can develop their talents, learn practical skills, and have an active time in a variety of interactive games. Arena STEM is now actively entering the US market and has opened its first center in New Jersey. For the USA, the Arena STEM concept is unique. The US market in which the company operates is more than 1.5 billion dollars.