It operates in the emirate of Ajman at the local government office.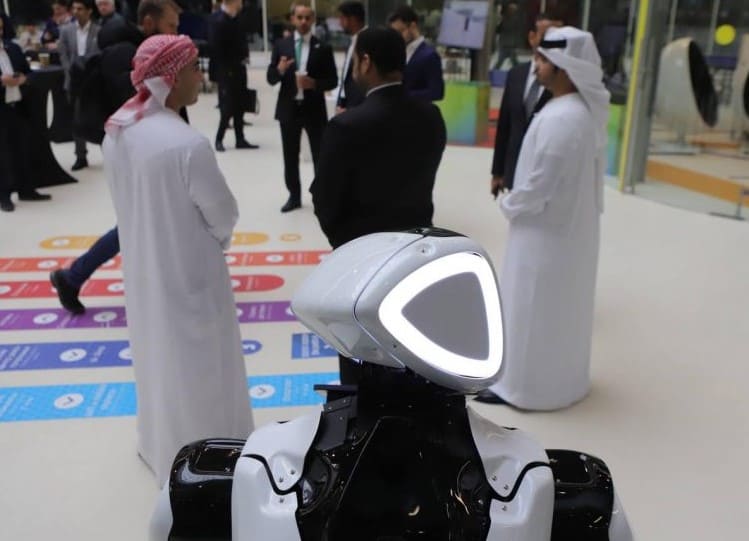 Promobot is a service robot that will now assist UAE entrepreneurs in their business. It starts operation at a business center in the Ajman emirate. Promobot service robot operates in Ajman's free-trade zone, similarly to civil service offices of Canada, etc.
The robot provides various state services: from starting a legal entity to opening a bank account, licensing, paying taxes, and liquidation.
Promobot greets visitors in the business center hall, informs them about services, and entertains people in lines.
It is the first civil office of Ajman, with more than one hundred offices planning to open in the following years after its successful launch. 
According to Oleg Kivokurtsev, the CBDO of Promobot,
This project is crucial for Promobot. We have been preparing for launch throughout the entire year, while the location was unavailable for visitors. The administration considered several robots from different manufacturers, finally deciding on Promobot, mainly because of our language module. The robot speaks perfect Arabic, integrates with services, has one of the best speech recognition modules on the market. Another crucial aspect is the price of our solution. Promobot V.4 is far more affordable when compared to other service robots.
The total price for the project is $50,000. Once successful, Promobot will supply another 50 robots to other business centers of Ajman.
More than 30 Promobot robots are already operating in the UAE, notably the Dubai Mall, hospitals, banks, and private schools.
Promobot was founded in 2015 in Perm. Today, Promobot is the largest manufacturer of autonomous service robots in Europe. Promobots work in 40 countries as assistants, greeters, managers, assessors, and concierges, assisting and performing various workplace tasks. Promobot robots work in civil service offices, BWI, Dubai Mall, and other locations worldwide.