How the new V.4 robot inspires employees and visitors of Jerusalem's clinic.
About the clinic
The Hadassah Medical Center stands among the most accomplished medical establishments in Israel. With over one hundred years of history, Hadassah is responsible for two first-ever operations in Israel. The first was a heart transplant; the second was a computer-assisted hip joint replacement. This Hadassah Medical operates in 19 fields, from allergies and immune system to pediatrics, stomach and skin illnesses, and cancers.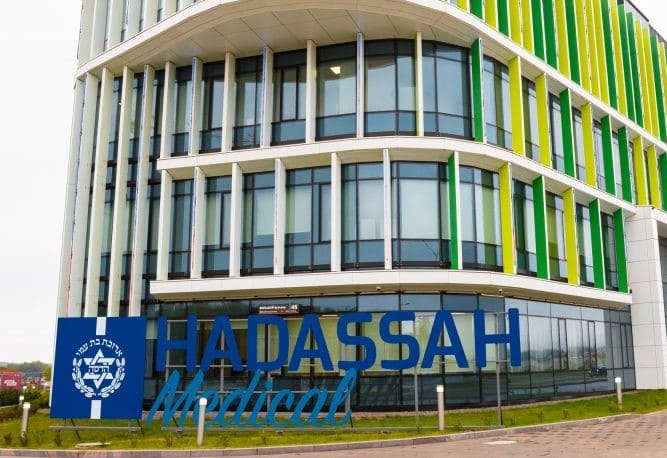 Mayor Sergei Sobyaninin attended the opening of Hadassah Medical in August 2020. He commented: "This is the international center where world-class specialists exchange their experience."
In 2020, Hadassah was among the first clinics to launch serology tests, also known as antibody tests, for COVID-19. The clinic had conducted more than 18 thousand tests since the start of the pandemic.
About the robot
Promobot V.4 is the flagship robot of Promobot, the largest service robotics manufacturer in Europe. This version takes health measurements, such as blood sugar and oxygen levels, lung capacity, and body temperature. It can also conduct a screening survey for each patient.
Timur Mubarakshin, Medical Director at Hadassah Medical, comments: "It is a win-win both for doctors and their patients. The robot collects general data on the person's health and transfers it to the specialist even before the appointment. At the same time, the patient is receiving careful and comprehensive health analysis first, and then discusses the results at the doctor's office."
The robot is great at attracting peoples' attention. It mostly operates in the building's hallway, greeting visitors and inviting them to check their health. Promobot makes it easier for human doctors to work with patients by assuming menial tasks and automatically collecting main health measurements.
Features
One of the key features of the robot is its autonomous travel. Promobot develops their robots' travel sensors themselves.
The robot can chat with patients on any topic. It tells stories for people in lines, can tell the recent news and weather, on top of guiding each patient through the screening process. It is created to help people, communicate with them, and fulfill specific tasks, including everything that concerns health.
More robots in the future
With most countries struggling to contain the virus, some are already planning to implement robotics in mass clinical check-ups. According to healthcare experts, countries need an average of 148,2 thousand medical specialists with 800 thousand nurses to keep the pandemic under control. One of the most extensive testing procedures involved 62 million people. 50% of adults and 56% of children were diagnosed with chronic diseases based on the testing results.
Timur Mubarakhshin continues: «I am glad that Hadassah Medical utilizes the most advanced technologies in their work. The fact that you can offer everything you can to your patient is immensely inspiring.»
Robotization is just as popular among people as it is among experts. According to surveys, most countries now openly address their healthcare crisis. Promobot founders are confident that robotics can improve the situation while turning medical services into a safe and interactive experience.