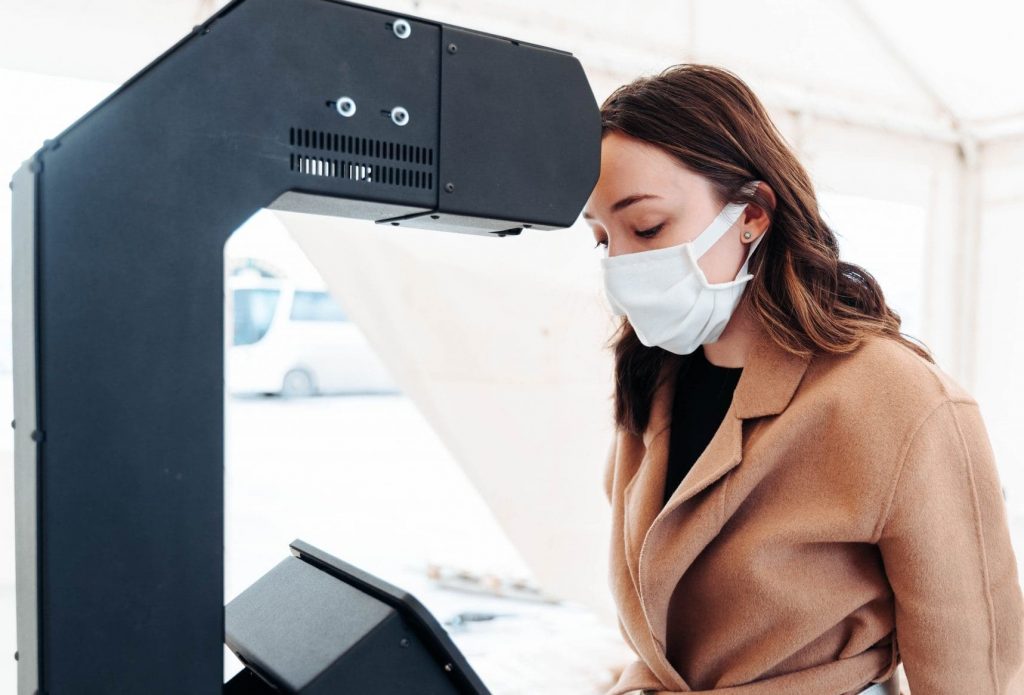 Autonomous measurement stations Thermocontrol by Promobot have been sent to Europe as part of a 300,000 Euros contract. First batch will be implemented in late May at a coworking area in Frankfurt.
During the next three months 10 Promobot Thermocontrol stations will be sent to Europe at the overall cost of 50,000 Euros. The contract's price, as signed by a German company Stey GmbH, is 300,000 Euros.
— We have big plans for future implementations of Thermocontrol, both at industrial facilities and public places. Right now we are in communication with several flagship retailers, universities and other companies in Germany and France. The first two locations where Thermocontrol will be implemented are Frankfurt and Paris, ― says Ludwiga Wirt, representative of Stey GmbH in Frankfurt am Main.
Autonomous screening stations Promobot Thermocontrol measure body temperature in just 5 seconds. Providing up to 300 measurements per hour, these devices are equipped with a contactless thermometer and LCD-display to show measurement results and notifications. An enhanced version provides face recognition and can be integrated with access and security systems in the building.
— Our stations are considerably more precise and reliable compared to similar solutions ― pyrometers and thermal imagers. The former are dependent on the human factor ― if a person misses the measurement spot the temperature can be displayed incorrectly. Pyrometers do not measure the absolute temperature at all ― they simply detect changes in the average temperature. Thermocontrol station, on the other hand, measures the actual temperature of the body surface using a special sensor with accuracy of 0.2 °C. The whole process is contactless and entirely autonomous. There have been a lot of concerns about business security and preoccupations with staff and visitors health, especially in Europe. We are expecting high demand for Thermocontrol and sure this is not our final contract with countries in Europe, ― says Oleg Kivokurtsev, CBDO of Promobot.
Devices were granted certificate of conformity as per technical regiment of Eurasian Customs Union. They are recommended for large-scale implementation at industrial facilities as part of the federal coronavirus prevention guidelines.
Thermocontrol devices are soon to be implemented in Greece and other countries worldwide.
According to John Hopkins University, more than 3,5 million people are diagnosed with Coronavirus at the time of this release. 1,2 million cases have been treated, while 250 000 people have died from COVID-19.