Dmitry Shepelev, the Commercial Director of Uma Capital management company, discusses a new robot employee at a high-tech business center.
Decision
One of our priorities is to improve the quality of service with new technologies. For us, the implementation of the robot made sense. Recently, our company introduced one in an office building called Central City Tower.
Our robot's main tasks include issuing entrance passes to guests and, more generally, helping with any questions they have. For example, the robot can tell about currently available office rentals.
We studied different companies and decided that working with Promobot is the most convenient for us. By convenience, I mean costs and communication with managers and technical support. We noted that Promobot was working with customers from 26 countries (currently 40 – Ed.).
Tasks
Before Promobot, we issued passes for every new visitor through our reception desk. We had two employees who would provide passes to every visitor: guests, tenants, delivery people, etc. Now, we have a different system. Promobot V.4 would scan a passport and issue a pass if it was ordered earlier. If not, the robot sends a request to the reception with the visitor's data.
We have been using the robot for the last two months. Analytics show that it has issued about 15% of the total number of passes in its first month of work. The percentage rose to 20% in the second month: as we can see, the trend is positive. While we still have employees at the reception, we are looking to increase the percentage of passes issued by the robot to 50% soon.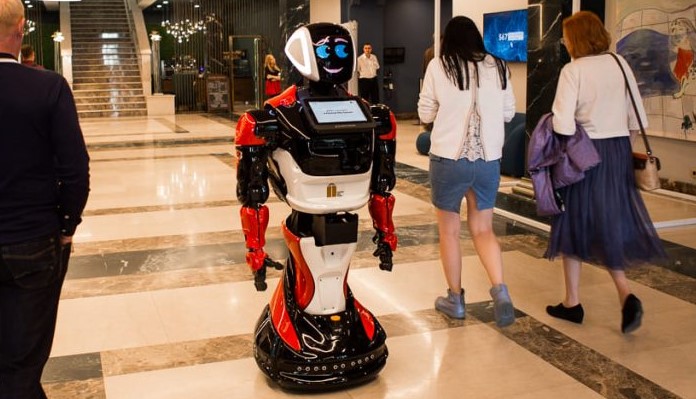 These may not be the numbers we expected immediately. The adjustment period before use took about three months, and it caused some difficulties. Not every visitor wants to interact with the robot. Even when the reception staff tells people to use it, some will keep asking employees to issue the pass themselves. Young people are using the robot immediately. Upon their second visit, they already know which buttons to tap and how to scan their documents. All of their questions are resolved after the first use.
Our employees help people interact with the robot during rush hours. It is necessary to reduce lines and comfort visitors. Besides, it is essential to monitor the number of passes in the robot's dispenser; the robot cannot refill cards without human help.
We work as part of Uma Capital management company, giving our robot a very affectionate nickname Umka.
Features
Reactions to the robot vary. Although some building offices did not integrate with Promobot because of their strict security requirements, the majority appreciated the new addition. We had master classes for business center employees so they could learn the robot inside and out.
Children get excited when they see the robot. They engage with Umka almost instantly. Guests of our restaurant, which is located on the first floor of the building, react the same way. Even though they don't use passes, they gladly approach the robot and interact with it. Umka melts visitors' hearts because it politely addresses every stranger by "dear."
Stories
One time, the robot decided to go for a walk, so it went to the glass revolving door. The escape attempt concerned our staff: the robot wasn't paying attention to the door on its way to exit. In the end, nothing's been damaged because the robot's obstacle sensors reacted just in time.
The other time, a journalist came to shoot a story about robotics. Reporters asked the robot about the TV company that they represented. So, Promobot started telling them about the founders, revenue, ratings, citing some obscure facts. The journalists themselves have learned a lot as they didn't know some of that information before.
Future
The robot also entertains visitors: it tells stories, sings, dances, and shows videos on its screen. We don't want Umka just to perform, however. We rent another Promobot and use it at our events so that Umka could continue its job of providing entrance passes.
I'm sure that after a while, the robots will do more and more of our tasks. I think we haven't quite understood all of the robot's features just yet. Still, our company is open to any new ideas from the developers.
Until then, we want to achieve 100% automation of one of the building's primary functions, which is issuing passes.