Vasily Ovchinnikov, Brand Director of Tanuki, discussed the functionality of Promobot in Dubai Mall and what types of robots suit a restaurant.
Mall restaurants need to always compete with each other ― it is relevant for all locations, big or small. When Tanuki restaurant chain opened its new location in Dubai Mall, the largest shopping mall globally, we had to stand out amongst peers and do everything to attract customers to the new place.
We decided that a Promobot robot will link people at the mall with our restaurant.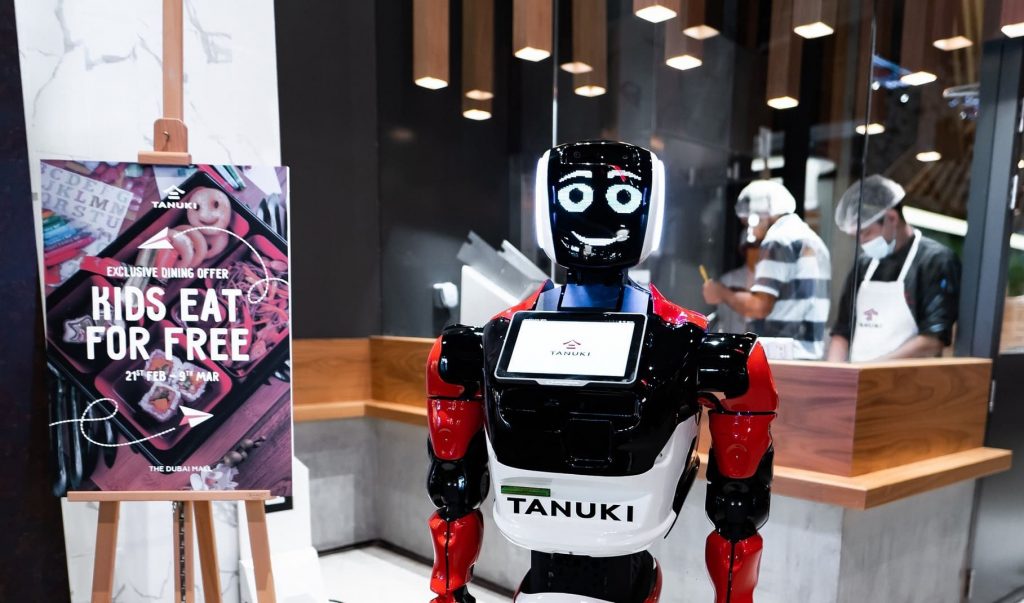 We decided to make a robot that would serve as a link between people at the mall and our restaurant.
Decision
We have been looking for a robot solution for a while. At the time, Promobot V.4 was the most recent model, and it was the most fulfilling robot in terms of functionality that we needed. We needed it to be manufactured quickly, feature our menu, communicate with people, answer questions, and suggest different items. On top of that, we wanted it to be inexpensive. Many other solutions on the market were merely a minimum viable product, with nothing at their core but a novel appearance.
Tasks
We needed to attract attention, have something for the WOW-effect. The robot immediately fulfilled those needs, and it attracts people to this day. Most people at Dubai Mall are tourists, so the robot is always a new thing for them. Promobot immediately grabs attention and excites them.
The average cost of one lead that Promobot brings to our restaurant is around 40 cents.
The main task of the robot is to communicate with mall visitors and restaurant guests. The robot is great at cheering people up, both old and young. Little children often get tired after a long day at the mall, but after a short chat with the robot, they laugh again! Word of advice to the parents ― if the child is crying, show them the 'the Tanuki robot.'
Features
We spent a lot of time developing the robot inside and out. Together with the Promobot team, we tried to make it as functional as we possibly could.
For example, the robot can befriend people ― learn their names and remember faces. Next time, the robot will greet new friends and offer them a free drink coupon.
More than a third of clients would return to the restaurant on the day they communicated with the robot
The robot has a built-in screen with our up-to-date menu. If the client hesitates, it can suggest a meal based on preferences or specific ingredients.
Every few hours, the robot performs a dance that we developed ourselves; every time it happens, there is a crowd around it.
Stories
There were different situations throughout our work. At times, the robot's arm would 'go numb' and stop moving, that looks funny. A few times, the robot escaped our restaurant and traveled around the mall. Naturally, the security had to catch it. All of those situations resolve quickly ― our team works closely with the Promobot technical support, and troubleshooting rarely takes more than a few hours.
Another story happened long after Promobot specialists sent us the robot. We needed to interact with the robot underneath its protective plastic parts. Our manager was not a technical person, and she had to cooperate with technical support. Using videos and photos, she disassembled the entire arm of the robot, found the issue and fixed it, then reassembled it back. The arm was working again, and while it was happening, it looked super badass.