Promobot engineers created a robot that can check for common Coronavirus symptoms and suggest users to visit a doctor through an interactive survey. The robot works in Times Square on January 30th starting at 12 PM and then at various locations in New York every day.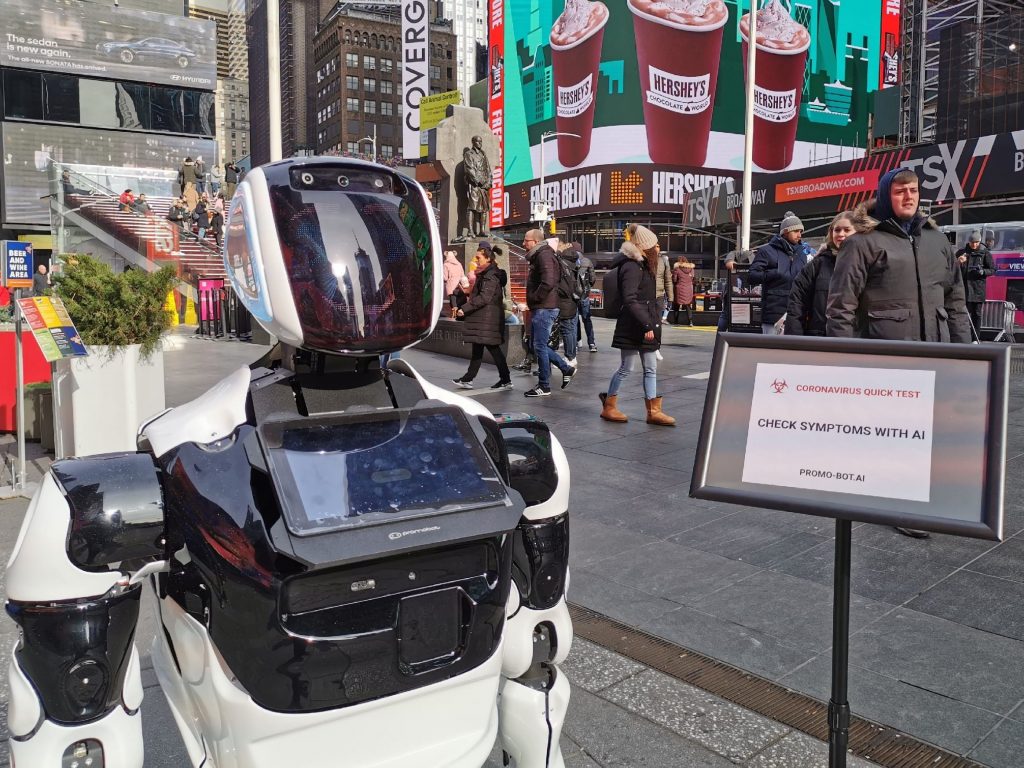 The humanoid robot runs a quick survey consisting of 5 questions; if the user has been experiencing nausea, as well as temperature or cough, and whether the person has been healthy and hasn't been sick before that. These symptoms were outlined in the new report from Zhongnan Hospital of Wuhan University and added into the robot.
The robot will encourage people on the street: "Come and get a quick test. Be sure: robots are not the source of the virus. As always it's humans' fault. But I still love you." According to developers at Promobot, it's important to take precautions but the most important thing is to stay calm in the midst of breaking news. Promobot will ensure people are not too preoccupied and help avoid panic in the media. It will give general recommendations and brighten the user's mood. It will also remind people about the importance of a self-check and, if necessary, a visit to the doctor, considering that the virus outbreak recently occurred in the US.
After demonstrations in Times Square, it will be possible to do the health check through the robot for anybody. To receive a personal time and place notification users need to leave an inquiry at promo-bot.ai.
According to the World Health Organization, it is still unclear as to how coronavirus is spread. The lethality of it is unclear, either: to find that out there must be numbers on both, people infected, as well as those who have recovered from it. It is also unclear as to how quickly the virus can spread.
The coronavirus spread started in Zhongnan, China. The first outbreak was registered at the end of 2019. According to recent reports, the pneumonia symptoms caused by the virus, with more than 1.9 thousand people infected on record, has resulted in the deaths of 56 people. Aside from China, several cases of coronavirus were registered in the USA, Thailand, Canada, Singapore, and South Korea.
Promobot company was founded in 2015. Today Promobot is the largest manufacturer of autonomous service robots in Northern and Eastern Europe. Promobots work in 37 countries as administrators, promoters, consultants, guides and concierges, replacing or supporting "live" employees. Promobot robots can be found in the Moscow metro, Dubai Mall, IKEA stores and other crowded places.