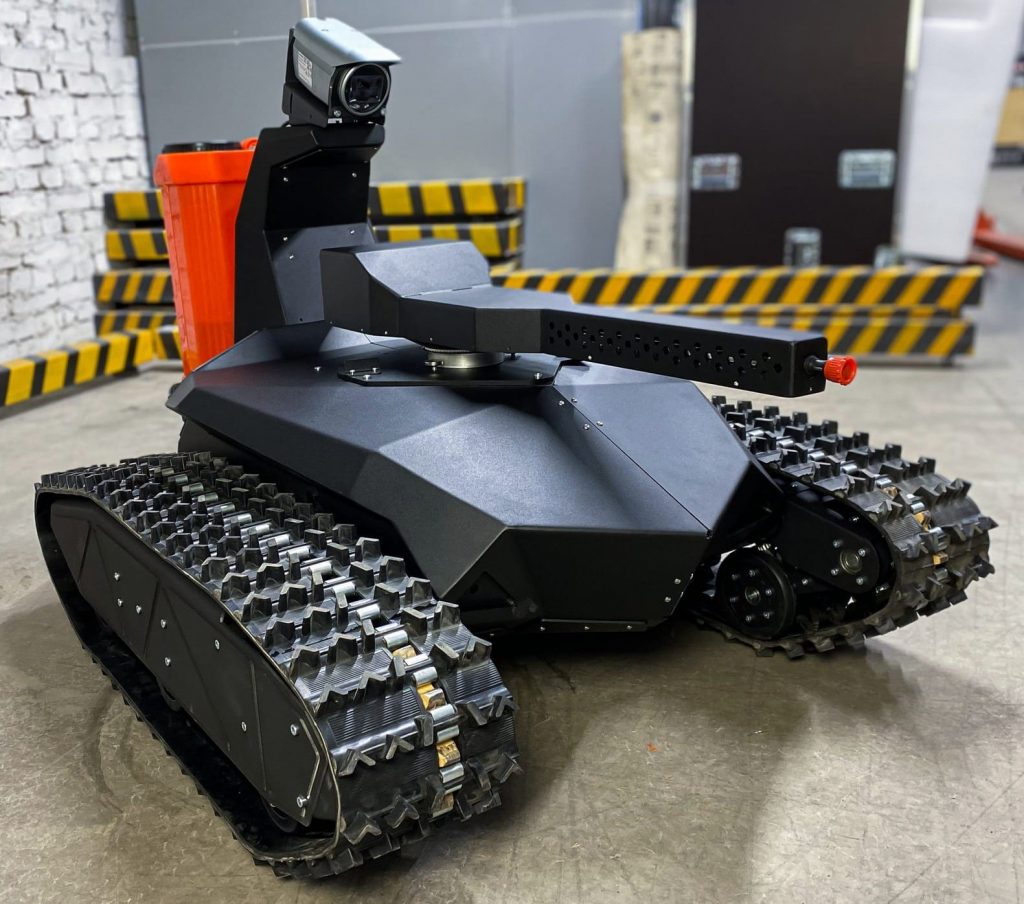 It is designed to disinfect outdoor and public areas. 
Promobot, the largest service robotics company in Europe, unveiled the new robot as one of the company's solutions designed to stop the spread of coronavirus. New disinfection robot can disinfect an area of 3 thousand sq. m. and operate for up to 6 hours non-stop.
Recent medical reports show that the SARS-CoV-2 virus can remain active for several hours in the air and up to 3 days on various surfaces. A disinfection process is commonly carried out by heavy equipment that cannot reach certain territories ― from wide city streets to residential areas. Local disinfection can be performed by people, which puts them at risk of transmitting the virus further on themselves.
"With new challenges in mind we reworked our universal mobile platform called Scorpion so that it can perform outdoor disinfection. We kept all of the main features ― it can climb obstacles, work autonomously, integrate with security systems and perform surveillance. In addition to that, it can now disinfect large open areas ― up to 3 thousand sq. m. of territory. Now the person that performs disinfection can do so remotely from a safe location. This allows us to eliminate the human factor and protect people from carrying and contracting the virus directly." says Oleg Kivokurtsev, Promobot CBDO.
Scorpion is equipped with a disinfectant storage container and can spray disinfectant at up to 10 meter range. The robot travels using chassis and can be remotely controlled via 3G/LTE networks. It can also overcome various obstacles ― stairs, curbs, etc. 15 different robots can be controlled at the same time by one operator.
Promobot is now negotiating with industrial companies, transport stations and airports on implementing the new solution. Aside from large spaces, disinfection can be carried out at malls, office buildings, schools and universities, hospitals, metro stations, parks and forests.
Another version of Scorpion for security purposes was presented in February. It is designed for outdoor surveillance and can even restrict intruders using various equipment ― from a net gun to UAV.
In addition to the disinfection robot, Promobot also presented autonomous screening terminals Thermocontrol, as well as the new version of its Promobot V.4 with Medical Assessor functionality. Both can measure body temperature, as well as other measurements, conduct a survey on the initial symptoms of diseases caused by COVID-19.
According to John Hopkins University, more than 2,1 million people are diagnosed with Coronavirus at the time of this release. 550 000 cases have been treated, while 146 000 people have died from COVID-19.
Promobot company was founded in 2015. Today, Promobot is the largest manufacturer of autonomous service robots in Europe. Promobots work in 38 countries as administrators, promoters, consultants, guides and building managers. Promobot robots assist and optimize the workforce and can be found in the metro, airports, Dubai Mall, IKEA stores and other crowded places.