CES 2018 has finished in Las Vegas – the main global exhibition of innovations and consumer equipment. Our digest is dedicated to our participation in this global event.
Every year, the leading players of the global technology and electronics industry, such as Samsung, LG, Mercedes, Nissan, Nicon, introduce their new products and present concepts of the future. And amidst all this magnificence – your humble servant, Promobot.
At the exhibition, we presented a new version of our robot – Promobot V.4. The exhibition had not yet begun, yet the robot had already caught a lot of attention. Lots of visitors were constantly coming to the Promobot booth, taking pictures with the robots, and leaving contacts. Taking into account the satiety of the western audience with the innovations of the techno-industry, the excitement caused by the Russian robot is a sign that we are on the right track.
By the way, it was not without adventures. Our delegation flew in two groups: one group – through Paris, the other one – through Helsinki. The one that flew through Paris lost their luggage. The second group had three delayed flights out of four, and what is more, one of them was delayed for the whole day. In spite of everything, everyone was on time for the beginning of the exhibition and even had time to go to the casino (Las Vegas, you know)
CES is a global event. Leading developers, bloggers, and heads of IT corporations are eager and honored to attend and participate. Here our colleagues met Guy Kawasaki – the man who has created the caste of Apple fans and the whole direction of marketing evangelism, the co-founder of Hyperloop's future transport company, Bibop Gresta, as well as blogger – Wylsacom.
Participation in CES, as expected, was not only a bright adventure, but also allowed us to make international contacts and find new customers around the world:
Totals:
152 – number of contacts
44 – filled sheets of potential orders by companies that showed interest in the implementation of technology into their business. This sheet is an analogue of the agreement of intent.
Over the three days of the company's work at CES, 44 companies filled out lists of potential orders. These are companies from around the world, including Oracle, NASA, Texas Instruments, Hyperloop, Lyft, Amazon and others.
Potential implementation fields: developers, casinos, shopping centers, retailers, hotels, business centers and campuses of large companies
List of countries:
Canada, Korea, China, USA, Brazil, Mexico, Japan, France, Turkey, Germany, India, Austria, Israel, Poland, United Arab Emirates, Thailand, Netherlands, Panama
Most completed documents:
United States – 22
Mexico – 6
China – 4
France – 3
The largest pre-order was a request from a representative of the UAE for 200 Promobot V.2 and 300 Promobot V.4.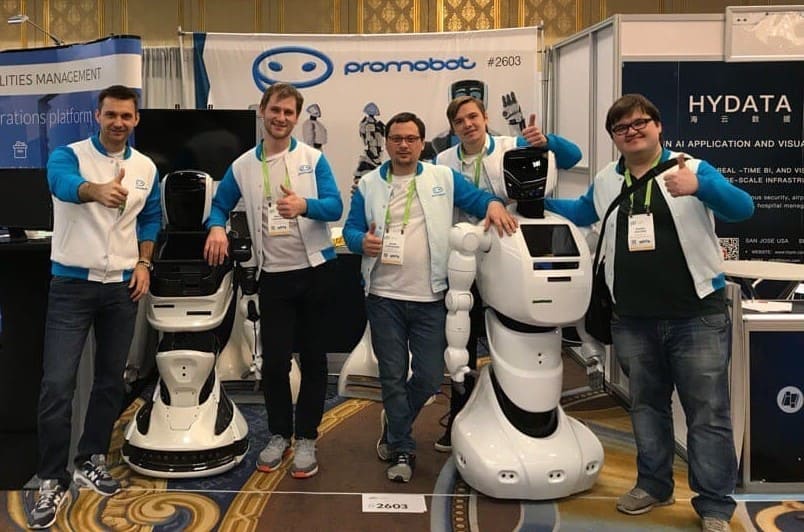 Team Promobot at CES 2018