CES-2018 in Las Vegas may be over, but the adventures of Promobot in the USA are certainly not. Alexey Yuzhakov went to Miami, where he met with the company's current and future partners. Entering the American market is a promising step and a new challenge that our company is taking with excitement.
It was back in 2017 in Miami that we met our partners. Even at that early stage of discussing the conditions of the partnership, the possibility of introducing Promobot robots-concierges into business centers and elite residential buildings was brought up. And those plans took real shape – our ambassador visited Trump Tower 1 and Trump Tower 2. Meanwhile, an Individual Application Case (IAC) where the robot will meet visitors or residents, escort them to the elevator and tell the news, is being developed.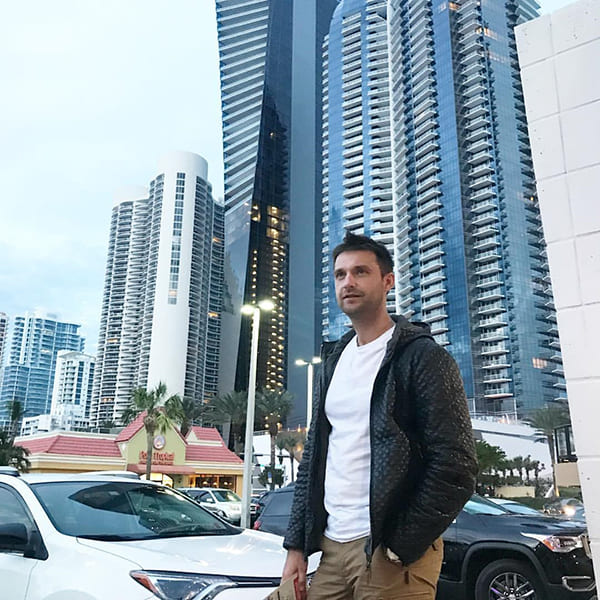 Alexey Yuzhakov, Chairman of the Board of Directors Promobot, Miami, United States
The introduction of a robot guide to the Miami Museum of Science and Technology is also being discussed; besides, there is a demand for a robot waiter and a robot seller at a car dealership.
In the US the human resource can be extremely costly, besides, an employee needs to be properly and regularly trained, paid a monthly salary, etc.; they can get tired, are prone to emotions, and in general their efficiency can naturally fluctuate. Thus, the implementation of the robot into customer service and in some cases the replacement of a human employee with it is a relevant and sought-after solution, especially in the United States market.
There are cross-cultural aspects that we must consider while entering the Western market. For example, when a robot (presumably a male) sees a girl, he may compliment her by calling her "beautiful". In other countries it will put a smile one one's face and cause nothing but positive emotional response. In the United States this may be perceived as sexist and even as a case of harassment, so there are great risks and responsibilities associated with it. That is why we have to rework the linguistic base and remove ambiguous and potentially offensive phrases.
Now our main goal is to organize round-the-clock warranty and after-sales service of robots in the country, and build a strategy for working with regional dealers.