This is the digest of "Promobot" company. The place for all of the latest news, our achievements as well as interesting events. This text contains the most notable events in November 2019
Promobot meets the Consul General of the USA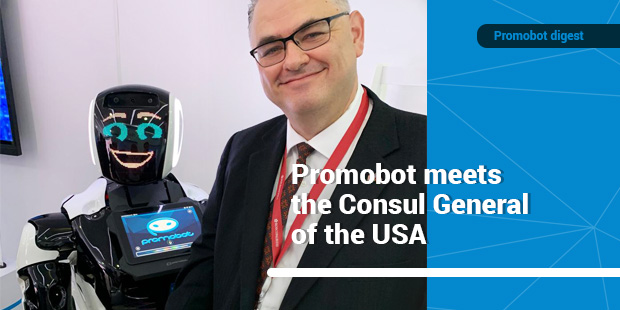 On September 4th, Promobot robot V. 4 met with Louis Krishok, the Consul General of the USA. The meeting took place at the Eastern Economic Forum in Vladivostok.
"It is a great honor for me to represent the US diplomatic mission in Russia at the V Eastern Economic Forum. One of the main tasks of a diplomat is to make friends. In the pavilion of Far East High Technology Fund, I managed to make friends with this guy named Promobot!", – said the Consul on his Facebook page.
Promobot "conquers" Europe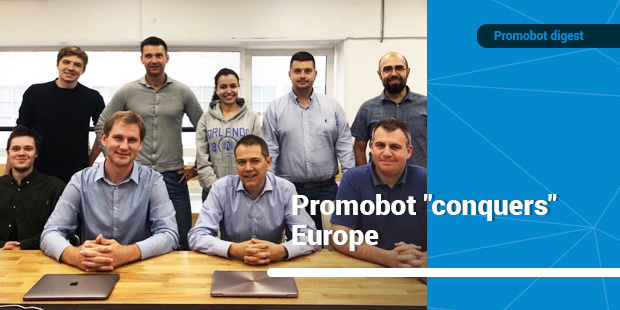 We have signed an exclusive contract with the Swiss company Advanced Robotics. From 2019 to 2024, Promobot will deliver about one thousand robots to Europe. Exclusive rights to sell Promobot robots extend to the entire territory of the European Union. The total amount of the contract is 18.5 million euros!
At the first stage of cooperation, the parties expect to see the openings of many service centers and sales offices in Romania, Germany and Austria throughout 2019 and 2020. Future development will depend on the market.
Gabriel GANTNER, CEO of Advanced Robotics: "We chose Promobot as the most advanced service robot available on the market. While most of the analogues seem to be nothing more than
gadgets, Promobot has all the potential to bring real benefits to the business. The robot's advanced AI, structural features and functionality often outperform similar products on the robotics market."
Promobot launches mass production of robots – human doubles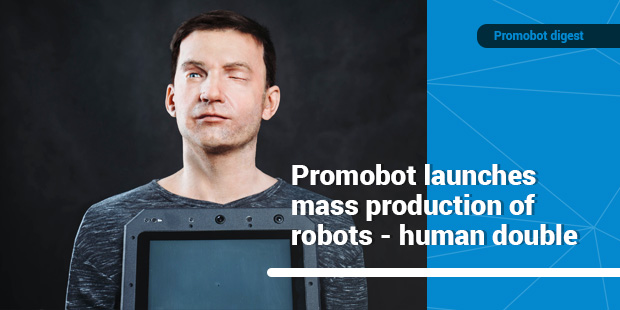 We started selling the robot with a human appearance – a robot-companion. This is the world's first humanoid droid, which not only mimics the appearance of a person but is also able to integrate into business processes.
The robot is a completely anthropomorphic machine. It copies a person's emotions: can move its eyes, eyebrows, lips and other "muscles", maintains a conversation, and responds to questions. The technology developed in Promobot, as well as its own patented design, creates the possibility of reproducing more than 600 variants of human micro-facial expressions, imitating a person's emotions as realistically as possible.
Now everyone can order a robot with any appearance.