It will meet guests and employees of the Perm Governor's administration.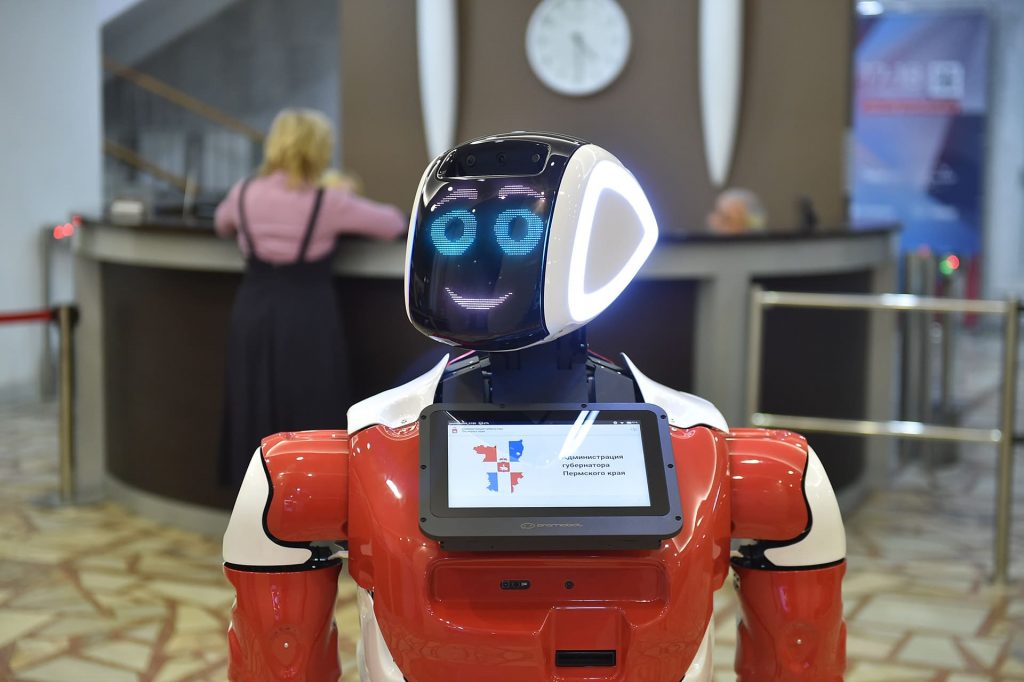 The robot-concierge, created by the Promobot company was introduced to the administration of the Perm Governor. This robot is able to greet guests, issue admission cards and record visitors for appointments. The new administration employee should improve the quality and speed of service.
Promobot works more accurately than a person: it doesn't make mistakes, doesn't get distracted and is impossible to lie to. A visitor only has to hold a passport to the scanner, and the robot will check the authenticity of the document as well as the presence of the guest's appointment, then it will issue a pass. Promobot will also help to make an appointment, tell how to get to the right office, and if necessary, contact the reception and clarify whether the visitor has an appointment or not.
"The Concierge-robot is one of the most common Promobot cases, both in the b2b segment and in b2g. The task of concierges in most state institutions and office buildings is to check documents, issue passes, and if necessary — signal or call a certain office. We are able to successfully complete these tasks, — tells the Chairman of the Promobot Board of Directors Alexey Yuzhakov. – It is vital that the Perm is the first region in the world that puts a robot in Executive power. This is an important step for us, since it is a very important client with valued requirements. And it is extremely important to not set high expectations for the robot: we do not seek to create competition for humans, but to undertake the routine duties, freeing up human time for more advanced tasks".
Promobot robots are the only service droids in the world that have an SDK system – the ability to connect to any external system such as databases, services, applications, security and access control.
Promobot company was founded in 2015. Today Promobot is the largest manufacturer of autonomous service robots in Northern and Eastern Europe. Promobots work in 36 countries as administrators, promoters, consultants, guides and concierges, replacing or supporting "live" employees. Promobot robots can be found in the metro, Baltimore airport, Dubai Mall, IKEA stores and other crowded places.